LONG® R³ IGF-I Cell Culture Supplement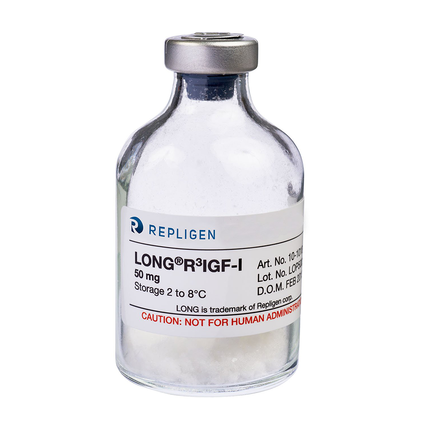 200 times more potent and two times more stable in cell culture than insulin, LONG® R3 IGF-I (LONG R3) is a recombinant analog of human insulin-like growth factor-I (IGF-I) that has been specifically engineered for the enhancement of cell culture performance.
Dry or liquid format, use with multiple cell types
Animal-free manufacturing process
Comprehensive supply chain risk management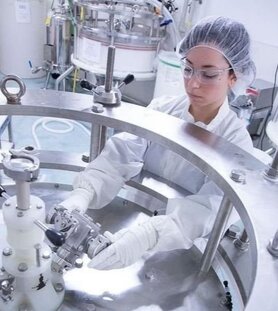 HIGH PERFORMANCE
More Potent than Insulin
LONG® R3 IGF-I is a recombinant analog of human insulin-like growth factor-I (IGF-I) specifically engineered to enhance cell culture performance.
More biologically potent in vitro than either insulin or native IGF-I

Ideal for systems utilizing serum-free or low-level serum applications

Increased cell density, higher viability and extended culture duration
HIGH PERFORMANCE
Better science for better cell culture
LONG® technology consists of a fusion of the growth factor with a portion of growth hormone sequence. The fusion improves growth factor production without imparting its biological activity.
A distinct biological advantage
All mammalian cells secrete IGF Binding Proteins (IGFBPs) which bind to and inhibit native IGF-I. The substitution of an arginine for glutamic acid at position three in LONG® R3 IGF-I, in conjunction with the 13 amino acid N-terminal extension peptide, results in > 1000 fold reduced affinity for IGFBPs, enhancing its bio-availability and effectiveness in comparison to native IGF-I.
Specificity is the key to increased productivity
Unlike insulin, LONG® R3 IGF-I specifically targets and activates the type I IGF Receptor (IGF-IR) resulting in greater activation of downstream signaling cascades responsible for proliferation and inhibiting apoptosis. Greater activation of these key pathways results in increased cell density, higher viability and extended cell culture productivity.
To learn more about the use of LONG® R3 IGF-I in stem cell and cell therapy applications, please contact Repligen.
Optimizing Cell Culture
Productivity
Cell culture supplements are essential for long-term growth and productivity of cell lines in serum-free media formulations. Both insulin and LONG® R3 IGF-I, a more potent supplement that directly targets and activates the IGF-I receptor, are employed by the biopharmaceutical industry today to support the growth of recombinant cell lines. This webinar will show how these two supplements, used separately and in combination, impact viable cell density and IgG production of multiple CHO cell lines. It will demonstrate how a combination of LONG® R3 IGF-I and insulin results in less protein supplementation and, therefore, less potential impact on downstream processing.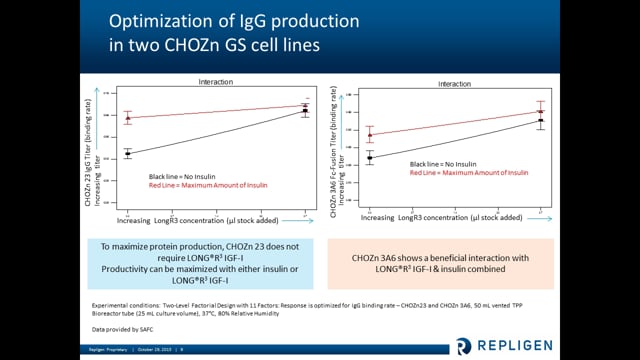 HIGH PERFORMANCE
Improved volumetric productivity
LONG® R3 IGF-I has been shown to improve volumetric productivity in CHO cell culture by up to 62% over cell culture with no supplementation and 40% over cell culture supplemented with insulin.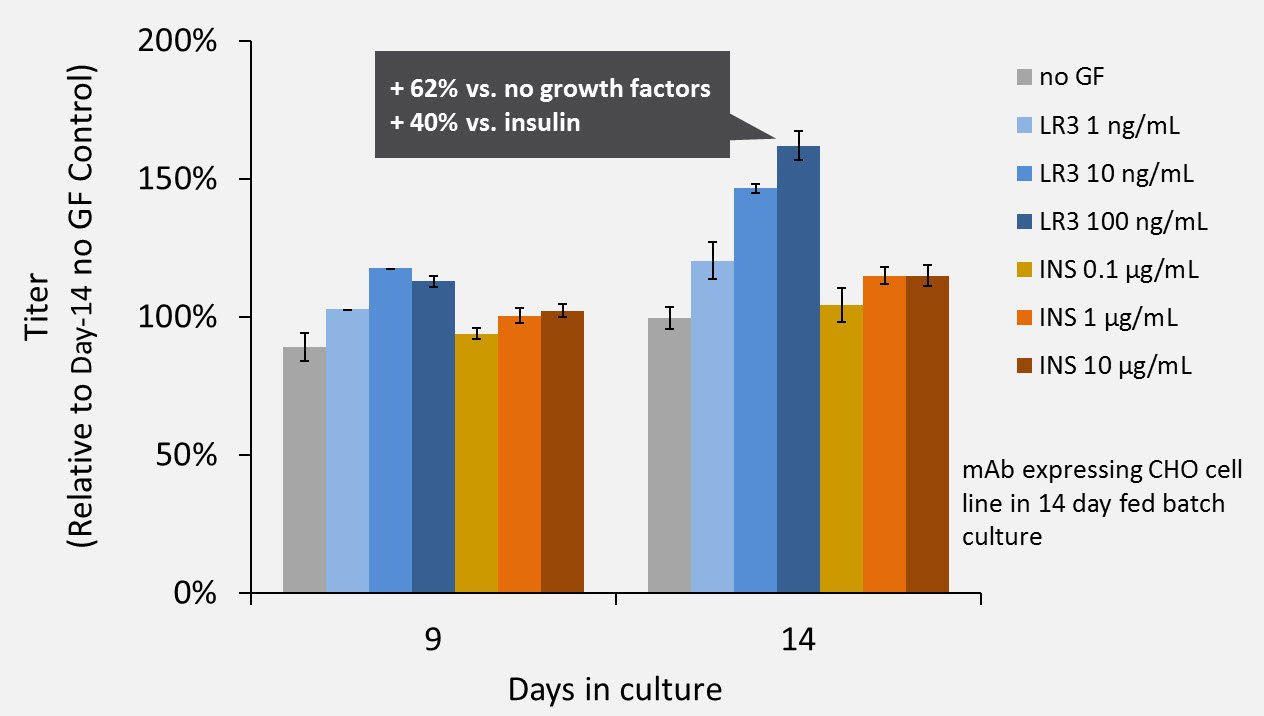 LONG® R3 IGF-I Cell Culture Supplement
LONG® R3 IGF-I is a critically important mitogenic growth factor often used in mammalian cell culture to increase yield significantly. Such growth factors are fundamental supplements to chemically-defined media.
LONG® R3 IGF-I is compatible with multiple cell types. Any mammalian cell type that responds to insulin in cell culture has the potential to respond to LONG® R3 IGF-I.
CHO clones
HEK 293
Vero
MDCK
Fibroblasts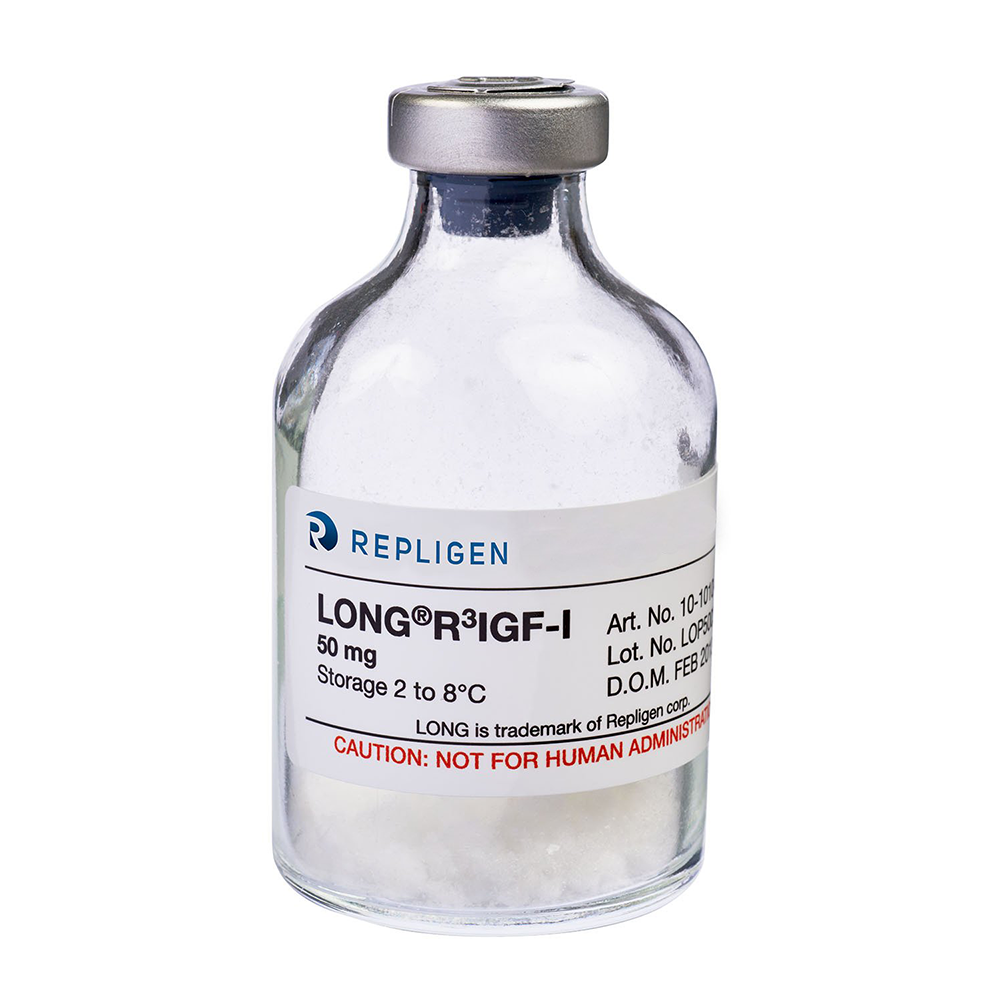 LONG® R3 IGF-I is available in two formats, both stable at 2-8°C.
LONG® R3 IGF-I can also be milled into cell culture media for additional flexibility and convenience.
Since LONG® R3 IGF-I ships at ambient conditions and stored at 2-8°C, cold chain shipping and storage costs can be significantly reduced.
Freeze-dried powder
5 mg (sample size*)
50 mg
Ready to use liquid
5 mL (sample size*)
100 mL
250 mL
500 mL
1L (1000 mL)
*Sample size is not fully validated. The material is filled from validated intermediate material. Stability information is inferred from the stability trials for 100mL and 50mg respectively.
LONG® R3 IGF-I ELISA Kit
The only commercially available kit for the quantitation of LONG® R3 IGF-I, the kit is fast, accurate, and easy to use with both cell culture and drug substance samples. The sandwich ELISA kit uses a biotinylated secondary antibody and Streptavidin-HRP for detection.
Limited reactivity to native or recombinant IGF-1
No reactivity to insulin
Ready-to-use ELISA plate allows the assay to be run immediately without additional plate coating and blocking steps
Kit Contents:
LONG® R3 IGF-I coated strip plate, 96 wells
LONG® R3 IGF-I Standard
Diluent
Biotinylated detection antibody
Streptavidin Peroxidase
TMB Peroxidase Substrate
LoBind® 1.5 mL Eppendorf tubes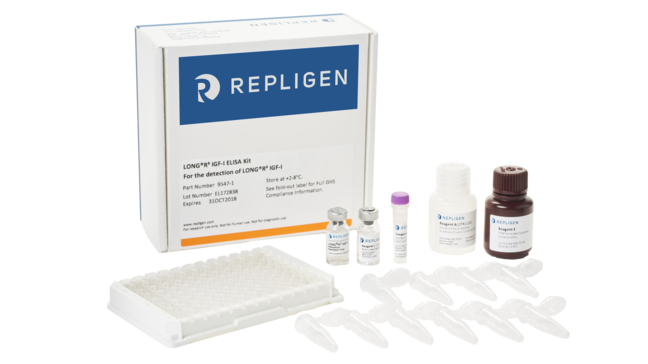 Manufacturing Centers of Excellence
Repligen develops and manufactures products for the biopharmaceutical industry under an ISO 9001 quality management system. We focus on the timely delivery of high quality, consistent and robust products, to ensure business continuity for our customers.
Repligen manufacturing sites are located in Massachusetts, California, and New Jersey in the United States and in Sweden, France, The Netherlands, Germany and Estonia.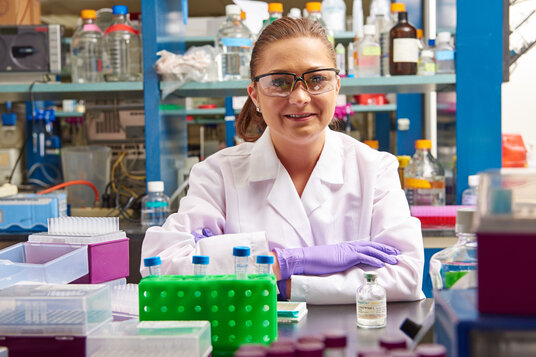 Customer First.
Support is part of the Repligen DNA. Our goal is to provide exceptional customer experience, and to support the efficient and successful adoption and implementation of all Repligen products and services.
Field Application Support

Customer Service

Field Service Engineers