SpectraPor® Biotech Grade Regenerated Cellulose (RC) Dialysis Membrane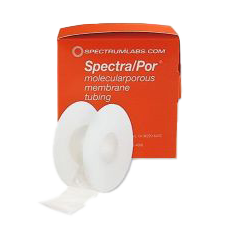 Molecular porous Biotech Grade Regenerated Cellulose (RC) membrane is produced for more challenging lab-scale dialysis applications that require high molecular selectivity as well as a membrane with higher purity and compatibility to harsh conditions.
Biotech Regenerated Cellulose (RC) dialysis tubing and kits
SpectraPor® Biotech RC is a premium dialysis membrane that combines high purity with higher pH resistance, temperature tolerance and chemical compatibility for more demanding dialysis applications. Biotech RC membrane generally tolerates concentrated-weak or diluted-strong acids and bases, most alcohols, some organic solvents, pH 2-12 and temp 4-60 °C. Tolerance to specific organic solvents should be confirmed the Repligen Chemical Compatibility table.
Simply soak and rinse in DI water, apply Dialysis Tubing Closures and load sample.
Features and benefits

High purity for critical and GMP dialysis - no heavy metals or sulfides
Better chemical compatibility and operating conditions tolerance
No interference with macromolecular activity and function
No azide preservative and no pretreatment required
Available in rolled tubing for economy and trial kits for evaluation

Typical Dialysis Applications for Biotech RC

Purification of Protein, DNA, plasmids, macromolecules, nanoparticles and liposomes
Removal of urea, surfactants and small MW impurities
Polymer synthesis and isolation (polypeptide, oligonucleotide, polysaccharide)
Enzyme activity and ligand binding studies
DNA and Protein electroelution
Organic solvent dialysis
Product specifications
| | |
| --- | --- |
| Properties: | hydrophobic, symmetric porosity |
| 9 MWCO's: | 3.5-5 kD, 8-10 kD, 20 kD |
| 2 Flat Widths: | 10 mm, 16 mm |
| Quantity & Packaging: | Dry with glycerin, 5 m/roll |