KRM™ Chromatography Systems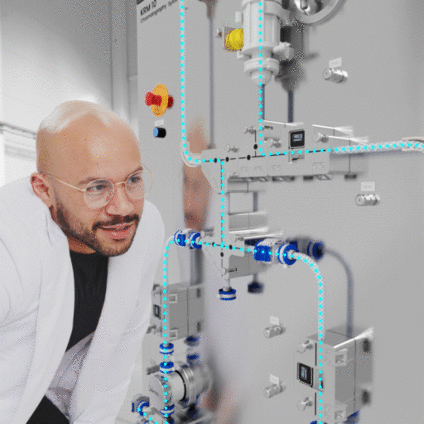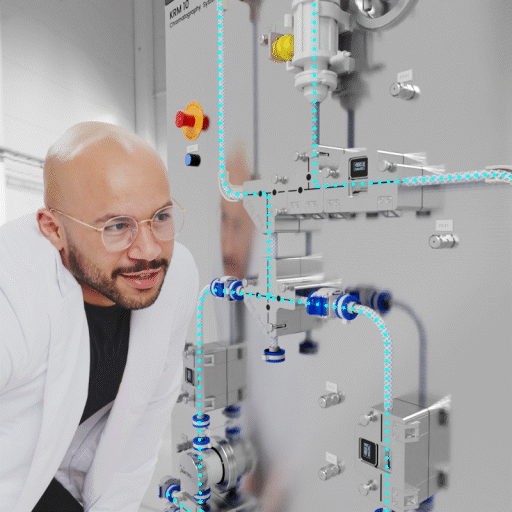 CHROMATOGRAPHY REDESIGNED
The KRM System embodies decades of transformative technology innovation, resulting in a rapidly scalable single-use platform for unprecedented recovery of complex biomolecules and new modalities.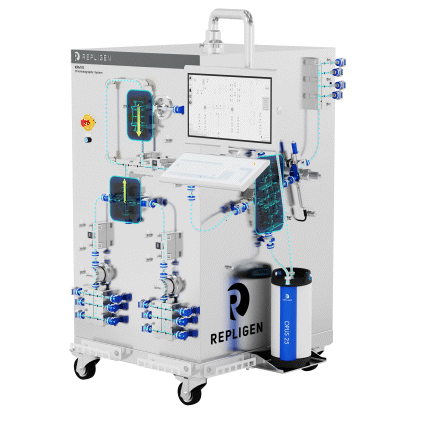 every drop counts
Innovative valve block
technology eliminates dead legs
Repligen valve blocks support consistent flow dynamics from mixing valve to column.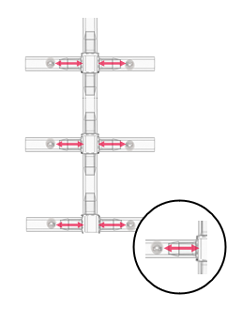 Traditional valves
Hose barb connections create dead legs and increase hold-up volume across the flow path.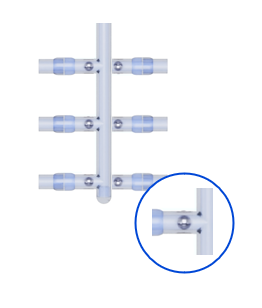 Zero-dead leg valve block technology
Injection molding and overmolded connections at critical junctions eliminate dead legs and decrease hold-up volume.

EVERY DROP COUNTS
Low hold-up filter and sensor solution replaces bubble trap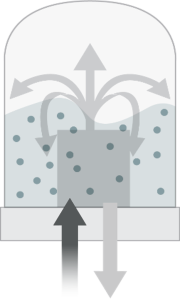 Traditional bubble trap​
Up to 500 ml of hold-up volume can uncontrollably disrupt gradient, causing back mixing and dilution, harming reproducibility and recovery.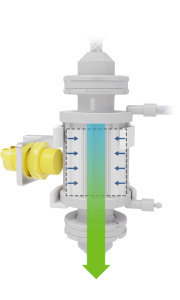 Repligen filter and level sensor solution​
Use of a filter minimizes hold up volume helps maintain gradient control and promotes higher recovery​

A level sensor coupled with the filter enables the automation of air release
EVERY DROP COUNTS
Over-molded connections reduce shear stress
Hose barb connections create dead legs and increase hold-up volume across the flow path.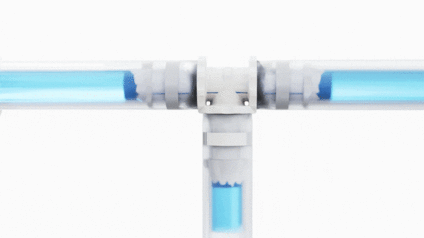 Traditional technology
Traditional solutions utilize hose barbs, zip ties and individual valves at tubing junctions causing excess shear stress to the product as inner diameter narrows and flow dips into significant dead legs.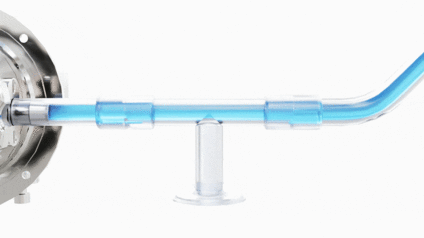 Repligen Technology
The consistent ID of overmolded connections coupled with injection molded tubing and valve block hardware at critical junctions eliminate dead-legs, minimize shear stress and protect product integrity.
ONE DESIGN SCALED PERFECTLY
Innovation and precision engineering at four different sizes
To remove process scale-up challenges, KRM™ Systems are part of one family built off of one design. The goal is to streamline scale-up from 1 L/h to 3600 L/h.
One optimized flow path design

Consistent hardware, including pumps

Identical user experience
SINGLE-USE AND SIMPLIFIED
Precise buffer control enables maximal product recovery
Precise process control of buffer composition, optimal flow path and hardware design unlock accurate gradient control and improved recovery.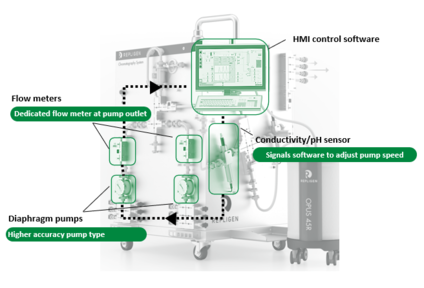 SINGLE-USE AND SIMPLIFIED
Error-free installation in minutes with pre-assembled flow paths
ProConnex® Flow Paths, pre-assembled and specific to the KRM™ System, are intuitively designed for simple, mistake-free installation. All system sensors are pre-calibrated and assembly is done in minutes with no confusing instructions.
Watch ProConnex® Flow Path installation on the KRM™ 20 Chromatography System.
SINGLE-USE AND SIMPLIFIED
Software for modern GMP manufacturing
GAMP 5 and 21 CFR Part 11 compliance

Recipe-driven HMI - point and click editing

Automatically generated batch and recipe reports

Network integration ready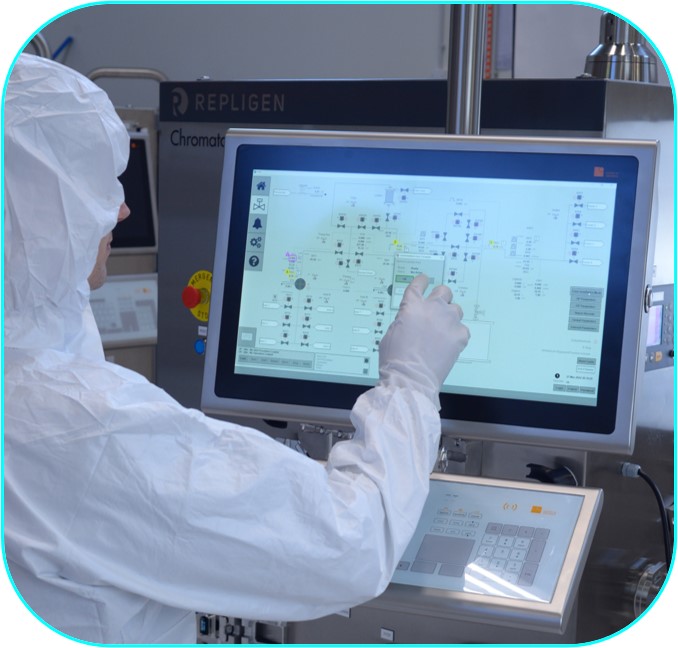 Chromatography Redesigned
Repligen is revolutionizing how modern chromatography is performed. The result? Unprecedented recovery and operational efficiencies even with the most complex modalities.
Click on the image highlights to see key elements of chromatography redesigned.
KRM™ Chromatography Systems
Incorporating transformative Repligen innovations in hardware engineering, fluid management and process control, KRM Chromatography Systems are designed to mitigate risk of leaks and contamination and enable an efficient, user-friendly batch change.
Click on the tabs to explore features of the different KRM Chromatography Systems and Flow Paths.
KRM™ 10 Chromatography System
1 – 180 L/h | 1/4" ID
Click on the links to explore different features.
KRM™ 20 Chromatography System
6 – 900 L/h | 1/2" ID
Click on the links to explore different features.
KRM™ 30 Chromatography System
25 - 2000 L/h | 3/4" ID
Click on the links to explore different features.
KRM™ 40 Chromatography System
50 - 3600 L/h | 1" ID
Click on the links to explore different features.
KRM™ Flow Path
Click on the links to explore components of the Flow Path.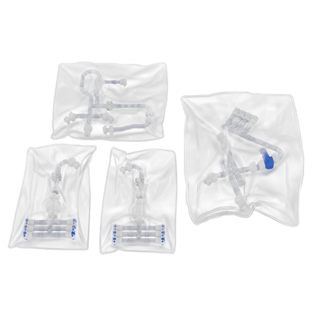 1. Receive 4 gamma irradiated flow path sub-assemblies.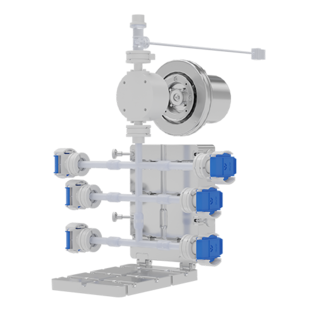 2. Assemble and install the flow path
Pre-calibrated sensors​
3 connections aseptic/hosebarb​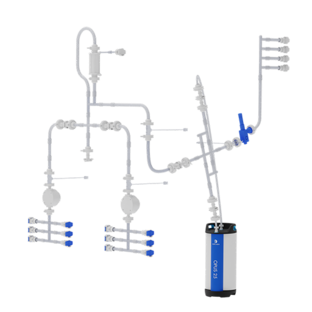 3. Perform chromatogrpahy on the KRM System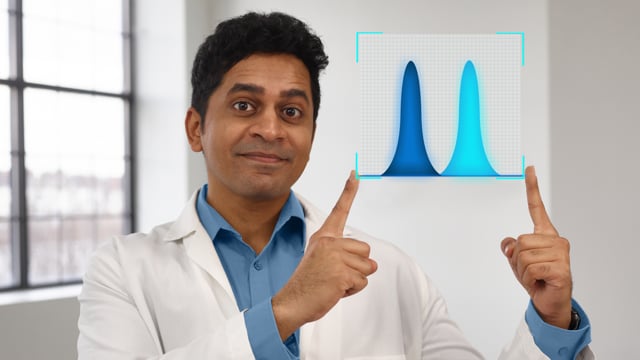 Smooth Ride
No more speed bumps, sudden turns and dead-ends along the flow path. Give your gradient the upgraded ride it deserves and recover more product.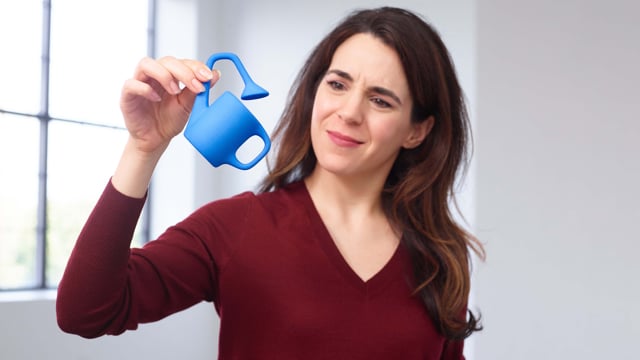 Designed right
Questionable design prevents you from getting the job done.  Experience higher recovery and faster batch changes with simple and expertly crafted chromatography flow paths and hardware.
Manufacturing Centers of Excellence
Repligen develops and manufactures products for the biopharmaceutical industry under an ISO 9001 quality management system. We focus on the timely delivery of high quality, consistent and robust products, to ensure business continuity for our customers.
Repligen manufacturing sites are located in Massachusetts, California, and New Jersey in the United States and in Sweden, France, The Netherlands, Germany and Estonia.

Expert Project Management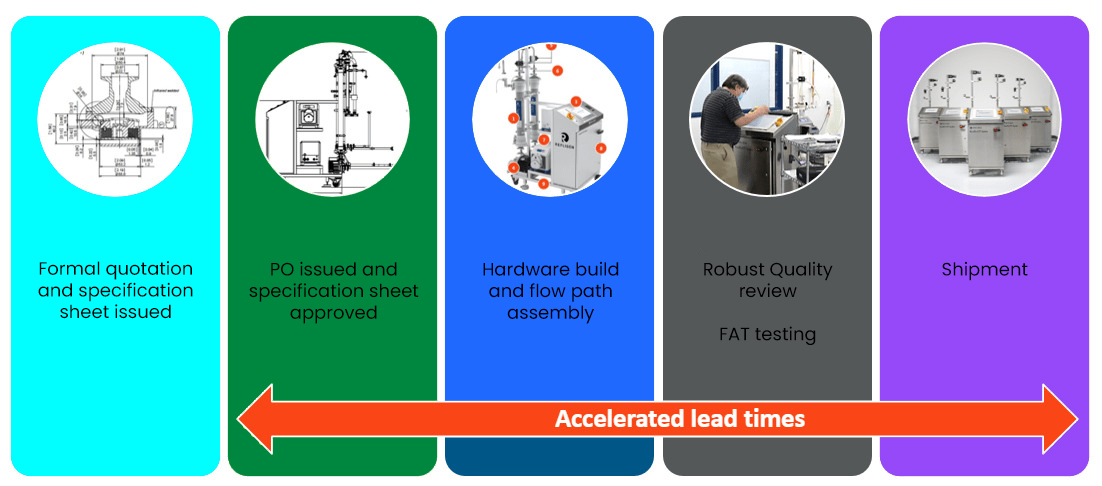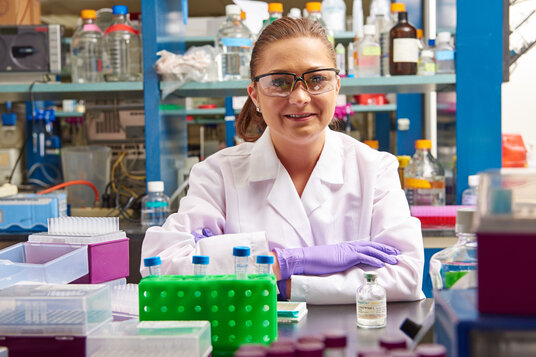 Customer First.
Support is part of the Repligen DNA. Our goal is to provide exceptional customer experience, and to support the efficient and successful adoption and implementation of all Repligen products and services.
Field Application Support

Customer Service

Field Service Engineers
Resources
The R Factor
Smooth Ride
Designed Right
Data Sheet
Repligen Chromatography Systems
System Specifications
| | | | | |
| --- | --- | --- | --- | --- |
| | KRM 10 | KRM 20 | KRM 30 | KRM 40 |
| Flow rate | 1 - 180 L/h | 6 - 900 L/h | 25 - 2000 L/h | 50 - 3600 L/h |
| Column size | 8 - 25 cm ID | 20 - 45 cm ID | 45 - 80 cm ID | 60 - 80 cm ID |
| Pump type | 2 Quattroflow™ pumps | 2 Quattroflow™ pumps | 2 Quattroflow™ pumps | 2 Quattroflow™ pumps |
| Sensors | 2 flow meters​ 4 pressure sensors​ Pre-and post-column pH/Conductivity​ Dual wavelength 254/280 or 280/300 UV | 2 flow meters​ 4 pressure sensors​ Pre-and post-column pH/Conductivity​ Dual wavelength 254/280 or 280/300 UV | 2 flow meters​ 4 pressure sensors​ Pre-and post-column pH/Conductivity​ Dual wavelength 254/280 or 280/300 UV | 2 flow meters​ 4 pressure sensors​ Pre-and post-column pH/Conductivity​ Dual wavelength 254/280 or 280/300 UV |
| Software | AB PLC and Wonderware | AB PLC and Wonderware | AB PLC and Wonderware | AB PLC and Wonderware |
| Multiple flow paths | One built for purpose flowpath on each system for optimal process efficiency | One built for purpose flowpath on each system for optimal process efficiency | One built for purpose flowpath on each system for optimal process efficiency | One built for purpose flowpath on each system for optimal process efficiency |
| Tubing ID | 1/4 inch | 1/2 inch | 3/4 inch | 1 inch |