SpectraPor® Tube-A-Lyzer®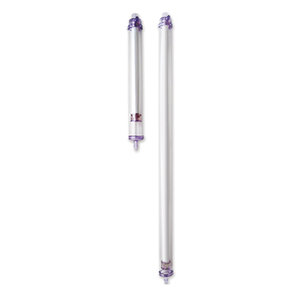 Ready-to-use dialysis devices are all made with our proprietary Biotech Grade CE dialysis tubing, preassembled with volume specific lengths of membrane tubing and designed to maximize convenience, ease-of-use and sample recovery.
Unique design
Self-contained cylindrical dynamic dialysis device with concentric sample and buffer chamber
Easy to use
Easy loading and recovery with Luer-Lok Syringe. Continuous buffer flow eliminates buffer changes.
Faster
Increases the rate of dialysis and can reduce overall dialysis time from 1-2 days to 6-12 hours
Broad MWCO range
6 MWCOs from 0.1 - 100 kD for all dialysis applications from small peptides to large nanoparticles
High purity
Achieve 98% sample purity with Biotech CE membrane, no heavy metal and sulfides.
Featured application
Purification of fragile proteins
Tube-A-Lyzer® is a ready-to-use device that combines single-use convenience with the efficiency of dynamic dialysis to significantly improve dialysis efficiency and can reduce time from days to hours. The unique two chamber-device features a membrane defined sample chamber with a port for easy sample loading and recovery; surrounded by a flow-through buffer chamber for continuous and gentle dialysis. Compared to traditional-static dialysis, the continuous buffer flow increases the mass transfer rate across the semi-permeable membrane to achieve a higher exchange rate and purity in less time.
The Tube-A-Lyzer® easily mounts on a standard lab stand with a tube clamp and connects to a separate buffer source that is continuously pumped in either single-pass or recirculation mode. Two units can be coupled for operating in parallel. (Stand, pump, pump tubing and bracket sold separately)
Available in 2 sample volume sizes (8-10 ml and 25-30 ml) and made with with high purity Biotech Grade Cellulose Ester (CE) membrane in 6 MWCOs ranging from 0.1-100 kD (refer to the Chemical Compatibility table).
Features
2 sample volume sizes (8-10 ml & 25-30 ml)
Easy access port for sample loading, recovery & testing
Biotech CE membrane in 6 concise MWCO's (0.1 – 100 kD)
Flow through buffer chamber for dynamic dialysis
Coupling for parallel operation or split-flow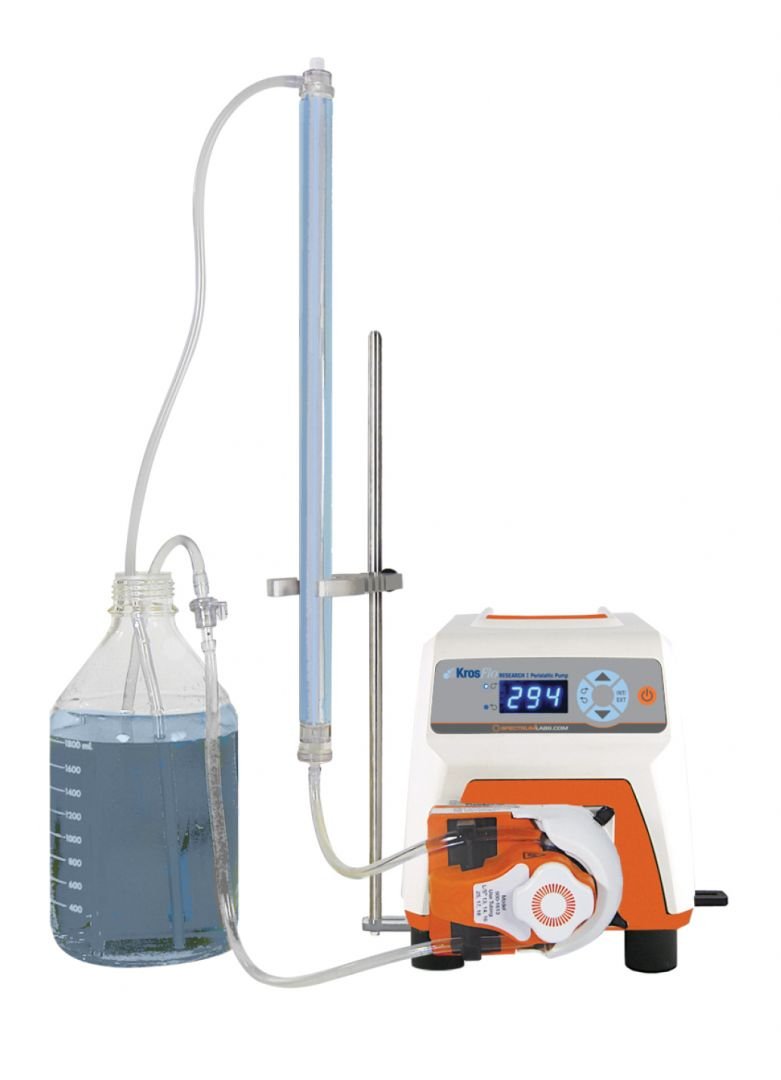 Data section in reprehenderit in voluptate velit esse cillum dolore eu fugiat
Typical Applications for Tube-A-Lyzer® Dynamic Dialysis Devices
Gentle purification of labile proteins and conjugates
Isolation of delicate macromolecules
Biopolymer purification and removal of monomers
Buffer exchange for protein refolding
Enzyme activity and ligand binding studies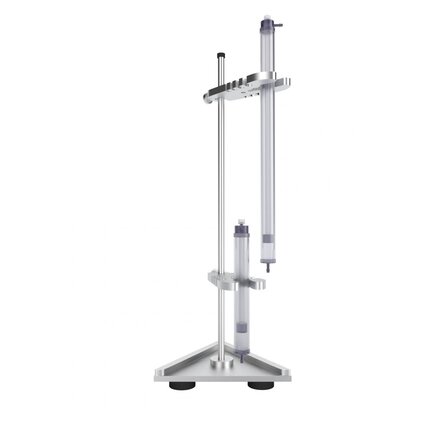 | 2 Volume Sizes | 8 - 10 ml | 25 - 30 ml |
| --- | --- | --- |
| Buffer chamber volume | 50 - 55 ml | 120 - 130 ml |
| Total length | 23 cm | 50 cm |
| Total diameter | 2.2 cm | 2.2 cm |
| Membrane effective length | 14 - 16 mm | 36 - 38 mm |
| Membrane diameter | 1.0 mm | 1.0 mm |
4 MWCOs
0.1 - 0.5 kD
8-10 kD
50 kD
100 kD
Membrane
Biotech grade Cellurose Ester membrane (CE)
Sample chamber
Polycarbonate top and bottom piece
Polyurethane potting
Female Luer-lok sample port
Polypropylene male Luer-lok cap
Buffer chamber
Polycarbonate housing
Polycarbonate end caps
6 mm (3/16 inch) hose-barb inlet / outlet ports
Dynamic pump rate
10-20 ml/min (should be optimized for application)
Packaging
Dry packaged with 20% glycerin
Resources
User Guide
Tube-A-Lyzer® Dynamic Dialysis System
References
Chemical Compatibility Table
Pore Size Chart