CTech™ ViPER® ANLYTX Software
The CTechTM ViPER® ANLYTX platform is designed with an app-based architecture where each app is designed for a dedicated purpose. One software platform for all your analytical needs. Our software allows for easy interpretation of sample data, providing key insights that are automatically generated from absorbance over pathlength and display slope, R2, wavelength, concentration, extinction coefficient (if known) and specific users results. Everything you need to take action within your process.
Explanations Where You Need It
Scattered throughout the interface are information pop-ups, to give you reminders, directions and background details on key aspects within the platform and apps — just look for the "i".
Hardware Detection with Prompts
ViPER automatically detects and displays the status of your connected VPT device(s), also providing walk-through steps, where required, for setting your next testing sequence.
Modern Web Interface
Utilizing the latest state-of-the-art web tools to allow our platform to generate customized reports, offer various export options, and highly configurable security features.
Visualize your Data Even Further
High quality graphing features help you visualize your data better. Each application has unique tools that improve the analysis of the acquired data.
The Simplified Application Approach
Each task-based application (app) is designed for a specific purpose. Within each app you can create and save test profiles/methods for quick consistent results every time — for security and quality control there are levels of interaction access ranging from Admin to User status.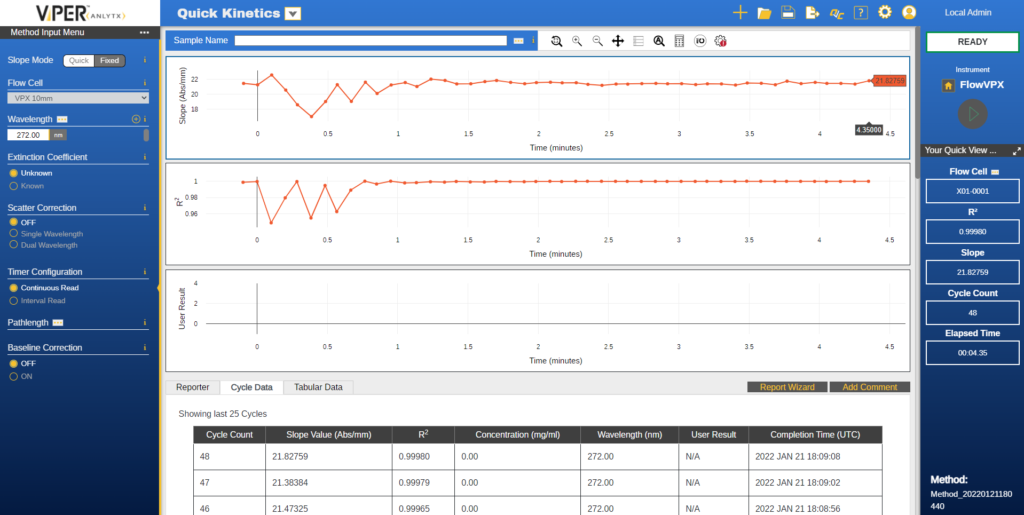 Quick Kinetics
Monitor your data in real time, watch your concentration as it changes throughout your process – the essence of variable pathlength technology. Design to support various applications such as: Chromatography, Dynamic Binding Capacity, Ultrafiltration/Diafiltration (UF/DF), Drug Product Manufacturing (Formulation), and many more. Built in guided hardware prompts enables the user to always follow best practices. Seamlessly float back between your sample and your data.
Available for: CTechTM FlowVPE and CTechTM FlowVPX System
Quick Slope
Trust your data with discrete reads and detailed reporting. By utilizing a smart algorithm for optimal pathlength data collection, Quick Slope mode simplifies concentration. Fixed Slope mode drives distinct instructions for repeatable results. Accurate results in less than 60 seconds. Dive deep into the data with slope analysis and create individual reports by defining areas of focus, you gain the ability to calculate accurate concentration every time.
Available for: CTechTM SoloVPE System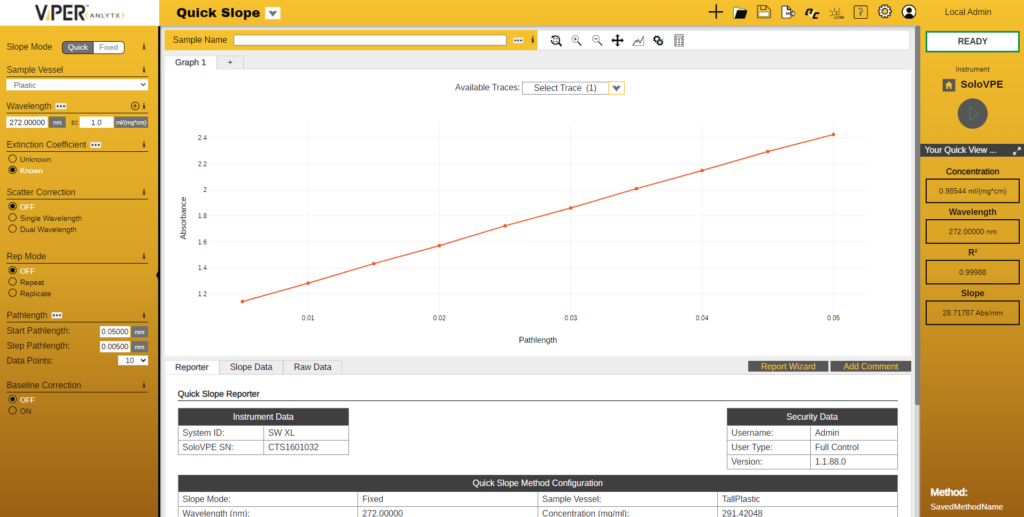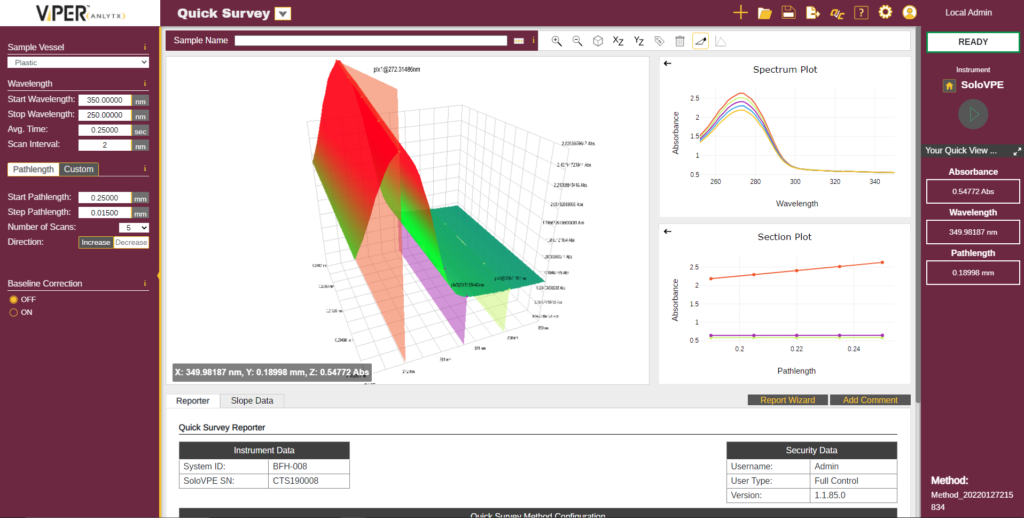 Quick Survey
Discover the most optimal path for your sample. This application displays a full spectral scan with start and stop wavelengths. Run a customized pathlength instruction or choose a fixed pathlength method. Enhanced graphing tools enable better data analysis. Visualize and interact with your data like never before.
Available for: CTechTM SoloVPE System
Manual controls
Manually configure your supported variable pathlength hardware settings. Fine tune your variable pathlength device to verify system performance. This application provides troubleshooting tools to make it so you're never offline. Run individual instructions to verify every component is operational. Take control of your system.
Available for: CTechTM SoloVPE, CTechTM FlowVPE, and CTechTM FlowVPX Systems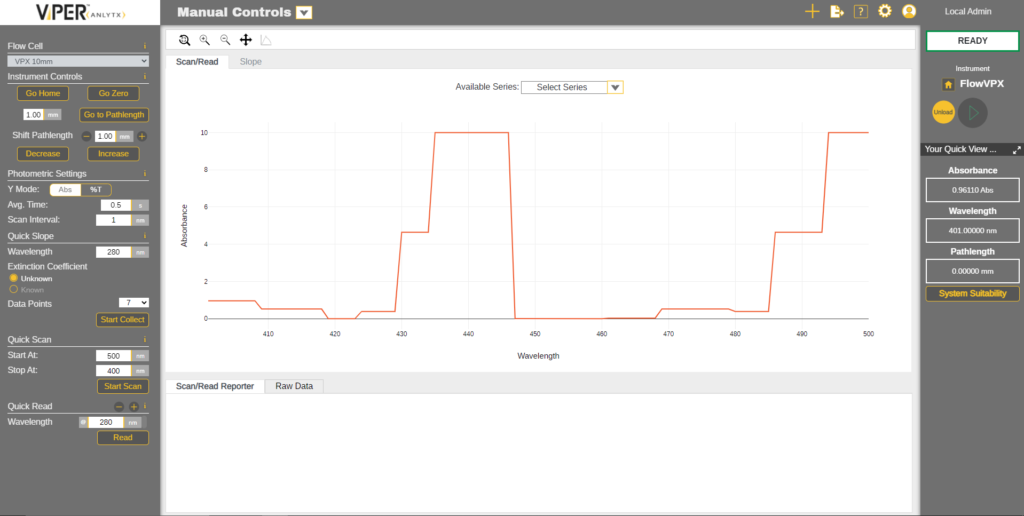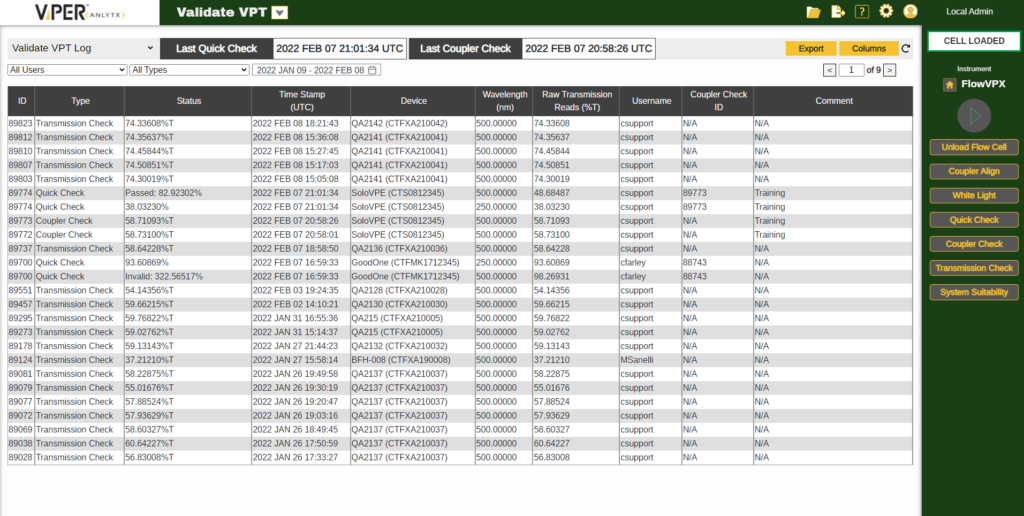 Validate VPT
Verify the health of your system. This application performs system maintenance checks to ensure accuracy and reliability of supported variable pathlength hardware. Run highly repeatable and accepted tests to validate system performance. Robust logging allows users to maintain and follow best practices.
Available for: CTechTM SoloVPE, CTechTM FlowVPE, and CTechTM FlowVPX Systems
Security, Validation and Hardware Details
Administrators can assign user roles and feature access of available applications on a group or user level — including using these security measures to dictate how eSignatures are initiated and managed during specific software events. Secure settings help ensure the software is compliant with CFR 21 Part 11 Annex 11.
Major features include:
User Platform Access Levels
User App Access Levels
User App Feature Access
E-Signature event configurations
E-Signature user level configuration
OPC-UA System Interface allows the user to set up methods and device control runs from outside ViPER, for system integration with other process control software or LIMS systems.
Major features include:
Start/Stop a Run
Get last Cycle Data
Open an existing method
Set method variables
Why wait 9-12 months (the standard time for a Clinical and/or GMP Manufacturing environment Computer System Validation) when our dedicated team can complete the task in as little as 2 days! Free up your resources and expedite an improved testing methodology for your process.
ViPER ANLYTX 1.1 has been validated for use with:
Agilent Cary 60 spectrophotometer
All versions of SoloVPE, FlowVPE and FlowVPX hardware when used with an Agilent Cary 60.
ViPER ANLYTX 1.1 requires:
Windows 10
Microsoft .NET 4.7 Framework or later
SQL Server Express 2017 or newer (SQL Server Standard 2012 and newer can also be used)
Agilent Cary WinUV environment to run (it has been validated for use with Cary WinUV Version 5.1.3.xxx platform
ViPER ANLYTX 1.0 functions properly when used on computer hardware recommended in the Agilent Cary 60 User Manual
ViPER ANLYTX 1.0 Validation Testing was performed using the Standard Production Computer System(s):
Lenovo ThinkPad T460s
Intel Core i7 (Dual Core 2.6GHz 3MB)
20GB 1600 MHz DDR Non-ECC RAM
500GB 7200rpm Hard Disk Drive
Intel Integrated Graphics
Windows 10 64-Bit
Chrome 64bit V.75 or later
Dell Rugged Latitude 7424
Intel Core i7-8650U 1.90GHz
16GB DDR4 RAM
128GB Solid State Hard Drive
Windows 10 Pro 64-Bit
Chrome 64bit V.75 or later
Dedicated software for CTech SoloVPE System.
Operating System: Microsoft Windows 7 & Windows 10 compatible
Software Environment: Agilent Cary WinUV Software Suite Version 5.0/5.1 through (1042)
VPT Software Control: SoloVPE Software Version 3.1
Validation Companion (Optional): QuickVCA for use with the SoloVPE Validation
Security Companion (Optional): SecureVPT Software Version 3.1 (for GxP implementations)
Prior Versions: Prior software versions may be available on request. Contact Sales for more information.
Legacy Support: Support for legacy products can be secured but subject to limitations
The SecureVPE software package is an optional companion product for the CTech SoloVPE software. SecureVPE offers users the tools needed to achieve compliance with their company and regulatory requirements.
Features:
Windows 7/10 (32 and 64-bit compliance)
Eliminating dependence on the Agilent's Cary WinUV GLP administration application
Simplified user interface
Windows active directory connection for users and groups
Event-driven eSignatures
User/group personalization features
Eliminating Microsoft Access® Runtime Architecture
Secure access points for SoloVPE software, SecureVPE software, and SoloVPE administration software
Monitor protein concentration over time with the Kinetic Quick and Kinetic Fix software.
Kinetic Quick: The ideal tool for chromatography application
Designed for the FlowVPE System, Kinetic Quick, allows users to specify set wavelengths and pathlengths prior to data collection. No search algorithm is used, which results in more measurement in less time.
Kinetic Fix: Perfect for UF/DF application
Kinetic Fix runs a search algorithm to find an appropriate pathlength range for a given sample, tracking all concentration changes during data collection.