SpectraFlo™ Dynamic Dialysis Systems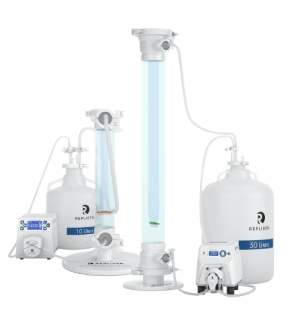 SpectraFlo™ Dynamic Dialysis Systems are the only commercially available systems for scalable dynamic dialysis from lab scale to large volume processing.
Continuous buffer flow
No manual buffer changes
Walkaway convenience
Integrated
Includes dialysis tank, pump, reservoirs, membrane
Fast implementation time
Scalable
Scale up from lab to process scale
Scale out from 1 to 6 tanks in series
Increased purification efficiency
Sealed self-enclosed design
Minimized exposure to external contaminants
Innovative mobile system
Large-scale, small footprint
Series operation conserves buffer
Dynamic Dialysis
Dynamic dialysis is an exciting new technology that utilizes fluid dynamics to increase purification efficiency and improve large buffer handling, ideal for the production of fragile proteins, viscous fluids and polymer gels, such as hyaluronic acid. These closed, high-efficiency systems offer high concentration gradient dialysis without manual buffer changes and in-process sample handling.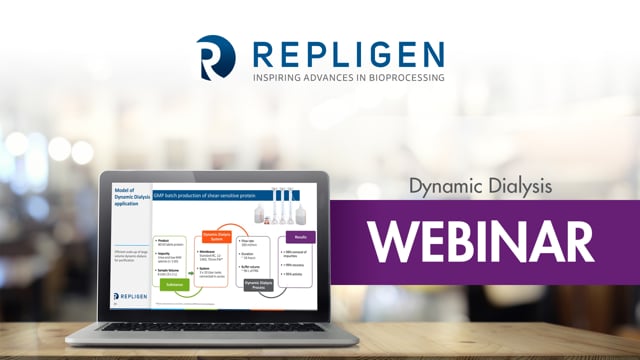 SpectraFlo™ Dynamic Dialysis Systems
Dynamic Dialysis Applications
Dynamic dialysis is ideal for the purification of viscous fluids and hydrogels (hyaluronic acid – HA) that cannot be filtered. Where traditional filtration methods may fail, dynamic dialysis uses flow dynamics to increase both the rate and efficiency of dialysis.
Applications

Why Dynamic Dialysis is preferred

Example

Delicate samples

Gentle separation without shear stress

Labile proteins and intact viruses

Viscous samples (Hyaluronic Acid)

Process hydrogels that are too viscous for filtration

Cross-linked Hyaluronic Acid for aesthetics and orthobiologics

Protein refolding

Refold proteins to native state using gradual pH
change through buffer flow

Overexpressed proteins containing inclusion bodies

High debris lysate

Will not foul like pressure driven filtration

Demineralized bone matrix for othopedic surgery

Polymer and Biopolymer synthesis

Low MWCO enables removal of unbound low
molecular weight monomer

Oligonucleotides and polypeptides

Scale up of any static dialysis application

Easy scale up without complex validation or
financial burden of filtration

Desalting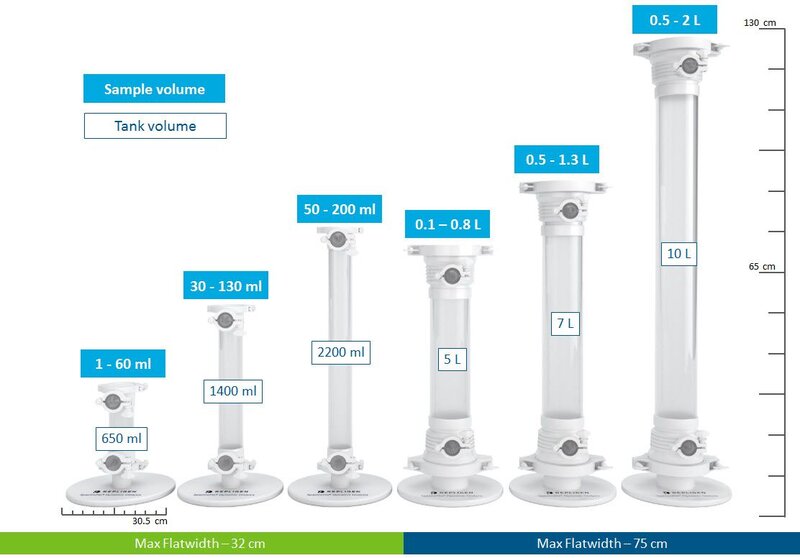 SpectraFlo™ Modes of Operation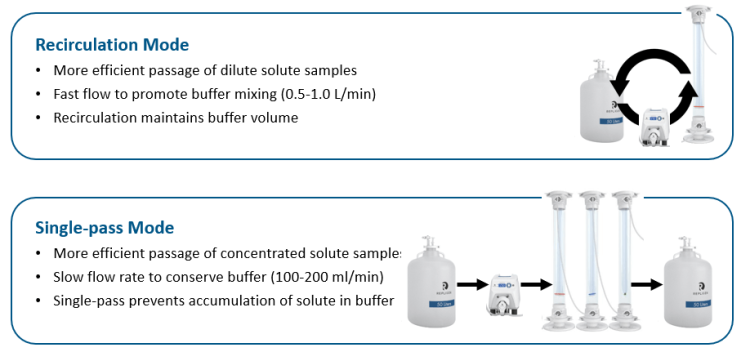 Case Study: Model of Dynamic Dialysis
This model of a GMP batch production of shear-sensitive protein shows an efficent scale-up of large volume dynamic dialysis for purification.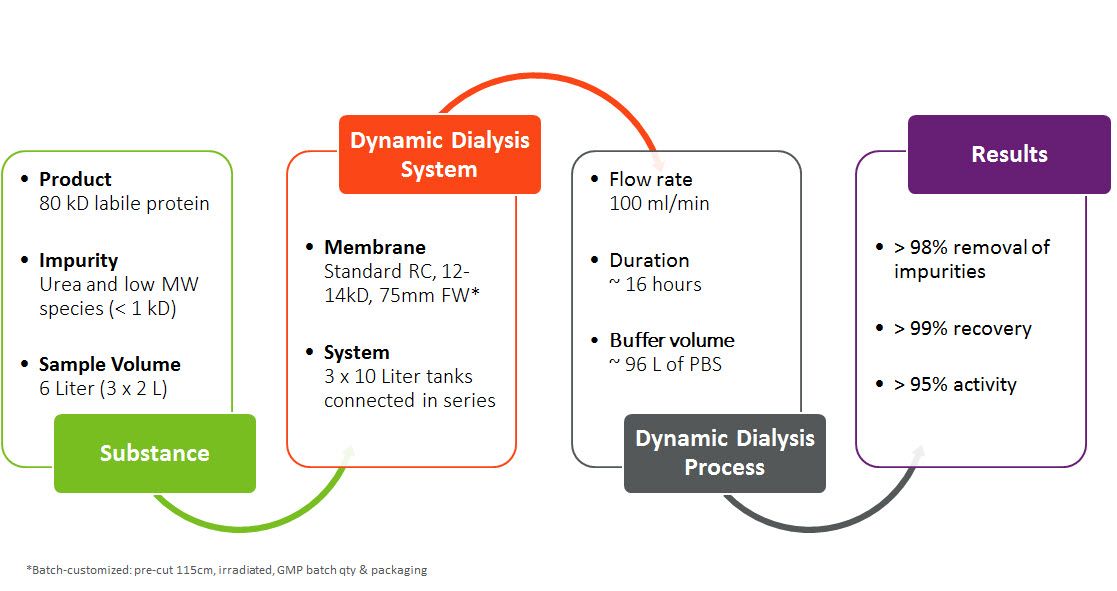 SpectraFlo™ Mobile Features and Benefits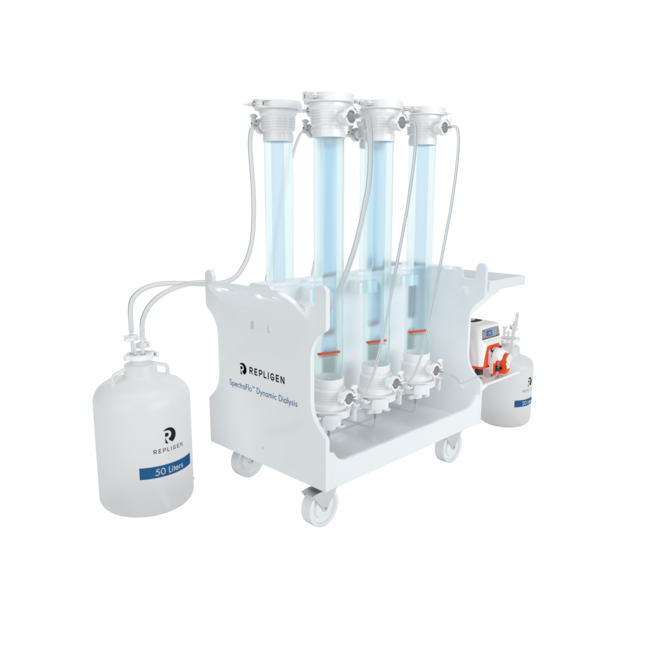 | | |
| --- | --- |
| FEATURES | BENEFITS |
| Up to 6 tanks in series | Scale up to 12L Sample Size |
| Parallel or series operation | Optimize buffer usage |
| Wet work tray | Prepare and load samples with secondary containment |
| Drain manifold | Load and drain buffer easily |
| BSE/TSE free polypropylene construction | Use for GMP processes and cleanroom manufacturing |
| Collapsible shelves and tubing hooks | Store complete system in compact space |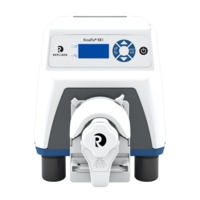 600 RPM pump-drive with multi-position pump-head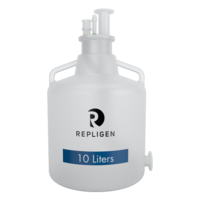 Designed with drain and 4 ports for recirculating or reservoirs in series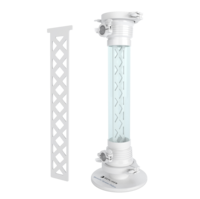 Double sample capacity with 2 dialysis tubings in each tank.
*Tank not included.
Materials of Construction
Quality Specifications
USP Class VI biosafety requirements
21 CFR 177.1520
Phthalates, BPA and DEHP free
BSE/TSE free
Quality Management System-ISO 9001:2015