SpectraPor® Float-A-Lyzer®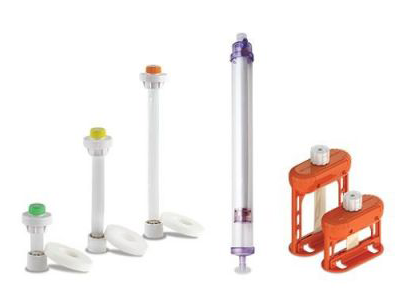 Ready-to-use dialysis devices are all made with proprietary Biotech Grade CE dialysis tubing, pre-assembled with volume specific lengths of membrane tubing and designed to maximize convenience, ease-of-use and sample recovery.
Unique design
Tubular membrane allows for maximum surface area and minimum volume uptake & dilution. Float ring ensures buoyancy and vertical orientation
Easy to use
Screw-on cap and pipette provides easy and safe sample loading and in-process testing with no dangerous needles
Total sample recovery
Cylindrical shape provides open access for 95-98% sample volume recovery
Broad MWCO range
9 MWCOs from 0.1 - 1,000 kD for all dialysis applications from small peptides to large nanoparticles
High purity
Achieve 98% sample purity with Biotech CE membrane, no heavy metal and sulfides
Featured application
Drug Dissolution: Controlled release for dose determination
USP Apparatus 2 and 4 compatible
SpectraPor® Float-A-Lyzer® Dialysis Device
The SpectraPor® Float-A-Lyzer® Dialysis Device is a unique and leak-proof, ready-to-use device designed for easy and convenient dialysis of small sample volumes from 1 – 10 ml. The device is made with high purity Biotech Grade Cellulose Ester (CE) membrane in 9 MWCOs from 0.1-1,000 kD. Screw cap lid and included pipette allow for easy loading, in-process testing and sample retrieval without the risk of needle punctures.
Biotech CE membrane exhibits a fair chemical compatibility and tolerates pH 2-9 and temp 4-37 °C. Exposure to most organic solvents is not recommended and should be confirmed on the Repligen Chemical Compatibility table.
FEATURES
3 ready-to-use volume sizes (1 ml, 5 ml & 10 ml)
9 Concise MWCO's for better selectivity & separations
High purity Biotech Cellulose Ester (CE) membrane
Leak-proof and color-coded screw cap
Complete with floatation ring and pipette included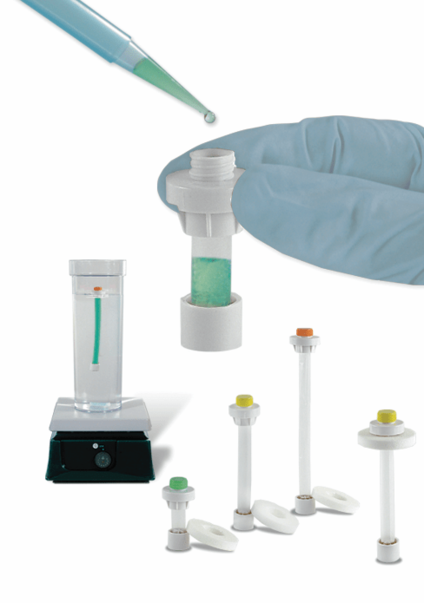 Three easy steps
Rinse with water

Load sample

Dialyze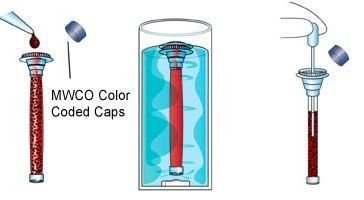 Typical Dialysis Applications for Float-A-Lyzer® Dialysis Devices
Drug dissolution and controlled release studies
Salt, urea, surfactant and cesiuam removal
HPLC sample preparation
pH change, buffer exchange and final formulation
Purification of Protein, DNA, plasmids, macromolecules, nanoparticles and liposomes
Biopolymer purification and removal of monomers
Enzyme activity and ligand binding studies
DNA and Protein electroelution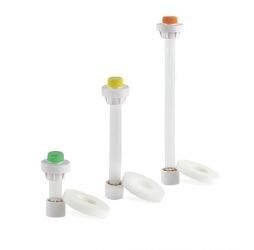 | | |
| --- | --- |
| 9 MWCOs | Color Code |
| 0.1 - 0.5 kD | Green |
| 0.5 - 1 kD | Orange |
| 3.5 - 5 kD | Black |
| 8 - 10 kD | Yellow |
| 20 kD | Red |
| 50 kD | Violet |
| 100 kD | Blue |
| 300 kD | Amber |
| 1000 kD | Pink |
Membrane type
Screw-on cap
Open and close for in-process sampling
Color-coded for MWCO
Polypropylene
Silicon O-ring
Leak proof and resealable
Flotation ring
Device body inserts through center to maintain buoyancy in buffer
Polyethylene
Top/Bottom piece
Polycarbonate
Potting
Polyurethane
Sample loading
Disposable pipette for 5 and 10 ml (included)
Pipette tip for 1 ml (not included)
Package/Quantity
Dry with glycerol, 12/package
| | | | |
| --- | --- | --- | --- |
| 3 Volume Sizes | 1 ml | 5 ml | 10 ml |
| Working volume | 0.8 ml - 1.3 ml | 4.0 ml - 5.5 ml | 8.0 ml - 11.0 ml |
| Total length | 5 cm | 10 cm | 16 cm |
| Membrane diameter | 10 mm | 10 mm | 10 mm |
| Top piece diameter | 23 mm | 23 mm | 23 mm |
| Flotation ring | 38 mm | 38 mm | 38 mm |
SpectraPor® Float-A-Lyzer® Dialysis Device Part Numbers
| | | | | | | |
| --- | --- | --- | --- | --- | --- | --- |
| | MWCO | Color Code | 1 ml | 5 ml | 10 ml | Quantity |
| | 0.1 - 0.5 kD | Green | | | | 12/pkg |
| | 0.5 - 1 kD | Orange | | | | 12/pkg |
| | 3.5 - 5 kD | Black | | | | 12/pkg |
| CE | 8 - 10 kD | Yellow | | | | 12/pkg |
| | 20 kD | Red | | | | 12/pkg |
| | 50 kD | Violet | | | | 12/pkg |
| | 100 kD | Blue | | | | 12/pkg |
| | 300 kD | Amber | | | | 12/pkg |
| | 1000 kD | Pink | | | | 12/pkg |
Resources
References
Chemical Compatibility Table
Pore Size Chart