Process Intensification
MORE. FASTER.
Bioprocess intensification is defined as a significant step increase in output relative to cell concentration, time, reactor volume or cost, resulting in improvements in productivity, environmental and economic metrics.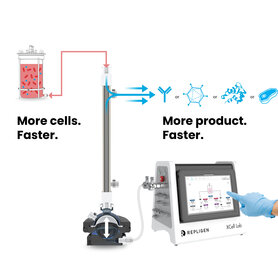 Bioprocess intensification usually involves a drastic change in equipment and/or process design e.g., moving from batch to continuous processing or integrating new process steps. The result is not only a considerable increase in productivity but a significant improvement in other environmental and economic metrics such as energy consumption, carbon footprint, OPEX and CAPEX.
Benefits of process intensification in bioprocessing
BUSINESS
Miniaturized plant size
Reduced CAPEX and OPEX
Distributed manufacturing
Faster from research to market
PROCESS
Higher cell densities
Increased productivity
Improved product CQA
Wider process conditions
Continuous processing
ENVIRONMENT
Reduced energy use
Reduced waste
Reduced reagent usage
Smaller landscape footprint
Repligen solutions help overcome key challenges in process intensification, with hands-on process and implementation consultation from global Field Applications Specialists.
Leader in Upstream Process Intensification
Watch the webinars on history, potential, applications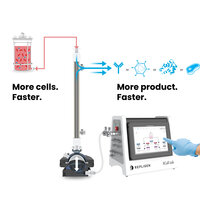 Evolution of upstream intensification: Optimizing perfusion processes with PAT
The PAT landscape in upstream intensification, the benefits of this approach, and the scale-up from benchtop to manufacturing is discussed.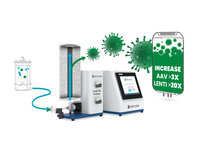 Viral vector N-1 intensification reduces seed train vessel number, media volume and time
This webinar discusses similar efficiency gains for three different viral vectors (lentivirus, AAV8 and AAV9) through intensification using KrosFlo® TFDF® Technology that resulted in reduce train vessel number, N-1 vessel size, media volume and time.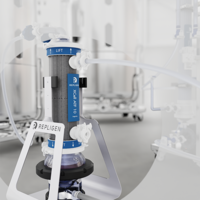 Where and When to Apply Upstream Process Intensification Technologies
15+ years of published application data, implementation in the largest number of commercial processes and proven scaling from 1 L to 5000 L differentiate XCell ATF® Technology from all other upstream intensification methods. Considerations for when and why to apply XCell ATF® Technology in order to meet specific productivity goals will be discussed.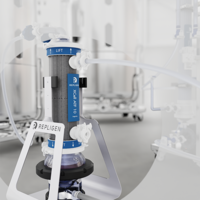 03