ProConnex® Flow Paths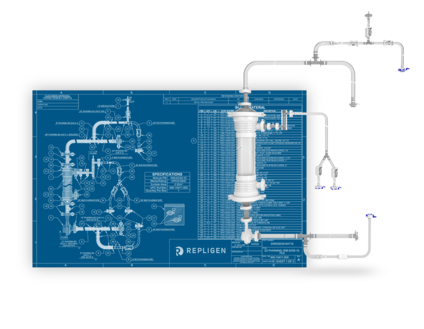 Customized, configurable and complete ProConnex® Flow Paths optimize fluid management and connectivity for specific Repligen TFF and TFDF Systems.
Single-use
Ready-to-operate single-use simplicity
Complete with filters, fittings, connections, reservoirs, transducers
Quality Manufacturing
Expert project management
Defined lead times
In response to the demand to improve process efficiencies, ProConnex® Flow Paths from Repligen provide customized, configurable and complete assemblies with ready-to-use convenience. Benefits include improved batch control, no cross-contamination, lower production costs, reduced manufacturing down-time, quicker and easier set-up time.
Build a ProConnex® Flow Path around a Spectrum® Hollow Fiber filter, TangenX® Cassette or TFDF® Filter. ProConnex Flow Paths are designed according to specific customer specifications by Repligen engineers for a specific application. They are intuitively designed for simple, mistake-free installation. All system sensors are pre-calibrated and assembly is done in minutes with no confusing instructions.

CONFIGURABLE
Turn design ideas into engineering plans in minutes
Take a flow path idea to a preliminary engineering drawing in minutes with an on-line digital configurator and expert consultation. Leverage drag-and-drop capabilities and a library of over 250 individual components to create an engineering drawing illustrating the specific needs of your application.
Rapid pricing based on

configurator output

Design lock and final pricing done by team of engineering specialists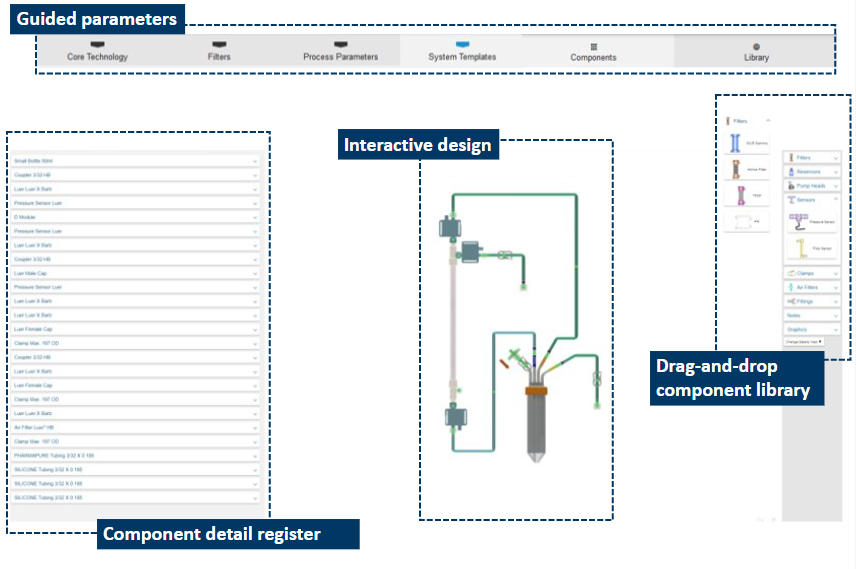 CONFIGURABLE
Technical consultation from concept to product
With decades of experience, Repligen technical experts match your core technology with the flow paths that suit your application.
Process goals
Core technology, application, facility fit
Process parameters
Feed flow rate​, working volume​ and pressure​, integrity test​, sterility​, scale
Flow path requirements
Aseptic connectors​, sensors​, vessel​, hold-up volume
Flow path specifications
Engineering documents​, bill of materials​, design lock
ProConnex® Flow Paths
ProConnex® Flow Paths are customized, configurable and complete single-use assemblies that are pre-assembled to optimize connectivity with industry standard filtration technology and workflow. The self-contained design of ProConnex Flow Paths reduce implementation time, are Gamma-irradiated to lower the risk of contamination and are built to meet the demands of customer-specific filtration applications.
Click on the tabs to explore features of the different ProConnex Filter Assemblies available today.
Manufacturing Centers of Excellence
Repligen develops and manufactures products for the biopharmaceutical industry under an ISO 9001 quality management system. We focus on the timely delivery of high quality, consistent and robust products, to ensure business continuity for our customers.
Repligen manufacturing sites are located in Massachusetts, California, and New Jersey in the United States and in Sweden, France, The Netherlands, Germany and Estonia.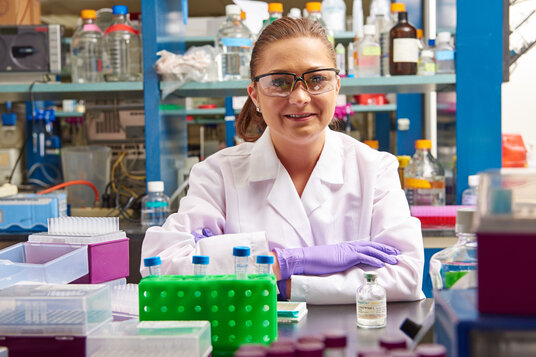 Customer First.
Support is part of the Repligen DNA. Our goal is to provide exceptional customer experience, and to support the efficient and successful adoption and implementation of all Repligen products and services.
Field Application Support

Customer Service

Field Service Engineers