SpectraPor® Pre-treated Standard Grade RC Dialysis Tubing and Trial Kits
Repligen provides a high purity, clean Standard Grade Regenerated Cellulose (RC) dialysis tubing that has been pre-treated for more critical applications that could be negatively impacted by the presence of trace heavy metals, sulfur compounds and membrane adherent impurities.
Customized Dialysis Membranes
While off-the-shelf rolled dialysis tubing may be suitable for the occasional research or analytical dialysis, many multi-batch dialysis applications require frequent routine processing and handling of dialysis membrane to prepare it for a particular use or assembly step. A customized dialysis membrane designed to fit your specific application saves processing time, minimizes handling, streamlines assembly production and reduces manufacturing costs.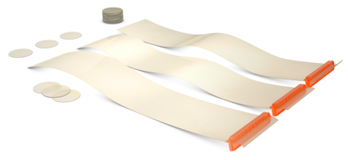 Pre-cut Dialysis Membrane
Dialysis tubing and 1-ply membrane can be pre-cut into discs, sheets, strips or squares ready for assembly into assay kits, ready-to-use devices or dialysis apparatus.
Pre-rolled Dialysis Membrane
Dialysis tubing and 1-ply ribbon can be provided as a specified rolled length. For convenience, dialysis tubing closures can be applied and included within the individual pouches.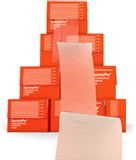 Pre-sterilized & GMP Packaging
Dialysis tubing and 1-ply membrane can be batch pouched and packaged for GMP; and pre-irradiated to minimize the risk of microbial contamination during use.
Let Repligen prepare, cut and package the dialysis membrane to meet GMP and application specific requirements for your batch dialysis; or tailor cut large quantity single layer membranes for diagnostic assay kits and multi-chamber dialysis systems.
BENEFITS
Ready-to-use out of the box
Saves production time and money
Minimizes membrane handling and preparation
Ensures batch-to-batch consistency
Reduces risks of sample contamination and loss
APPLICATIONS
Large volume and GMP batch process dialysis
Biopolymer purification (hyaluronic acid, collagen, polysaccharides, polypeptides)
Nanoparticles (Liposomes) and microparticles
Fragile macromolecule production (antibody, virus, complexes)
Diagnostic assay devices and kits
Membrane for dialysis apparatus or dialyzer assembly