Click and quote OPUS® PD Pre-packed chromatography columns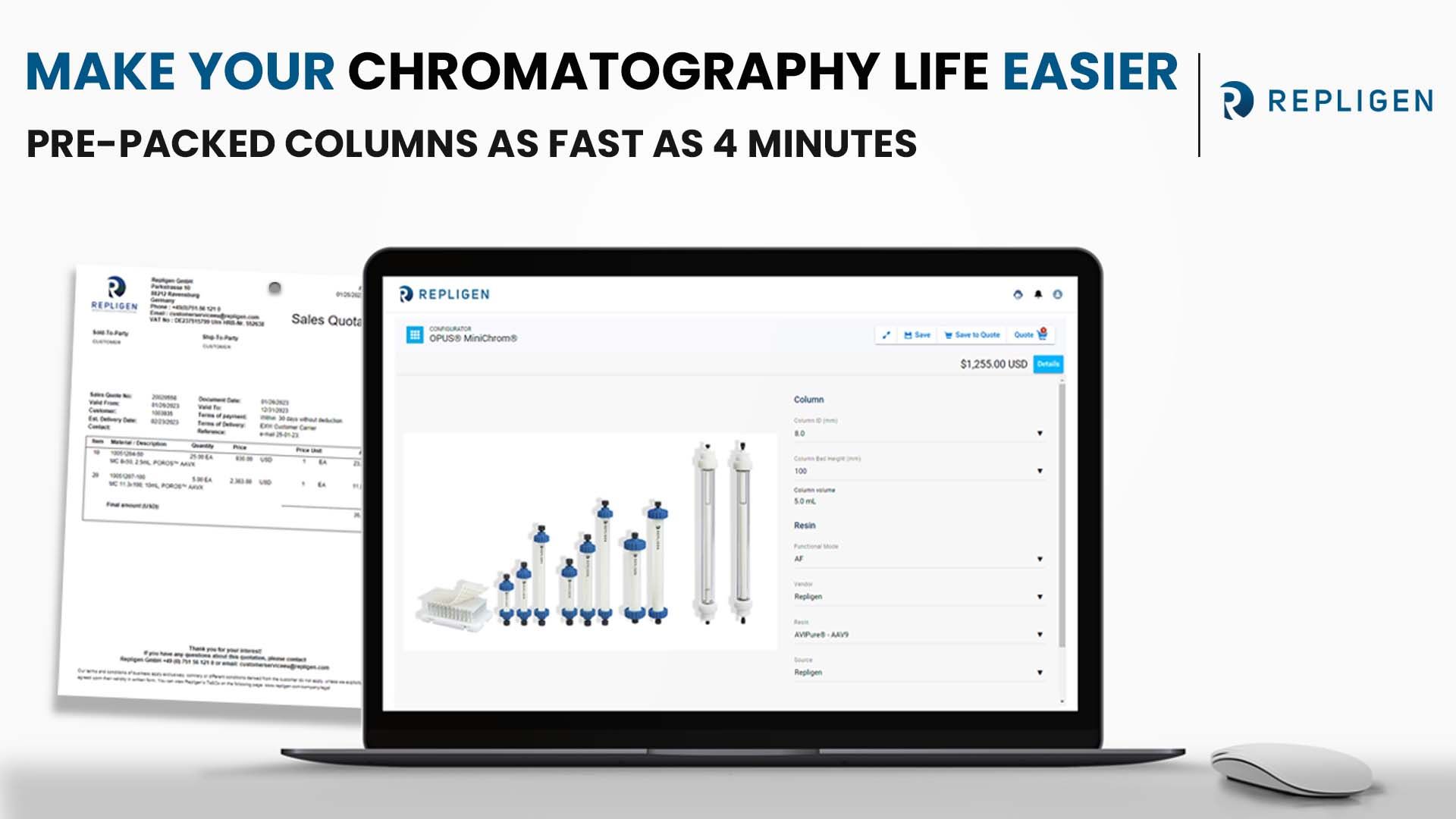 Configure and quote pre-packed columns using the latest web-based technology.
When you are planning your next set of small-scale chromatography experiments, configure the columns online and obtain a quote in minutes. Simply login, select your format, volume and resin that meets your experimental design and add to cart. A quote with all details and pricing will be emailed to you within minutes.
Make your chromatography life easier.
High Performance
OPUS Valichrom Pre-packed Columns for process validation
With over 10,000 columns packed since 2007, OPUS ValiChrom Columns are uniquely suited for process validation. They are designed to match chromatographic efficiency and bed height of production scale columns with a precision of 1mm, making them ideal for parameter evaluation, process validation, and viral clearance studies.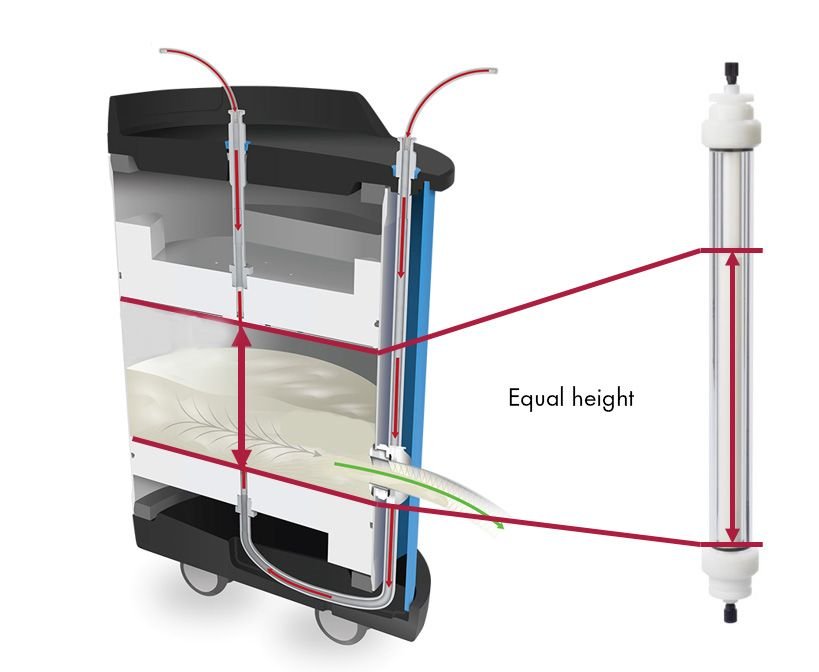 Robust scale-down process validation
Functional scale down modelling (scale down validation)
Resin lot-to-lot validation
CIP method validation
Process robustness studies
OPUS ValiChrom Columns demonstrate reproducible packed bed performance for robust validation, as shown in the superimposition of HETP curves from 16 different units.
Because OPUS ValiChrom Columns match the bed height of the production scale column with a precision of 1mm, they are ideal for scale-down process validation.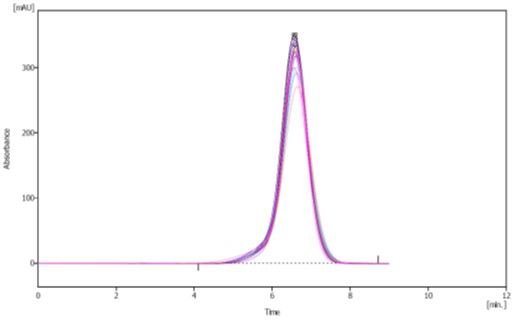 Rapid and simple AAV capture and polish DOE with new digital tools
This outline describes the advanced and fully automated purification development and optimization for an AAV vector with OPUS® PD Columns and Tecan's Fluent™ robotic workstation using online design tools.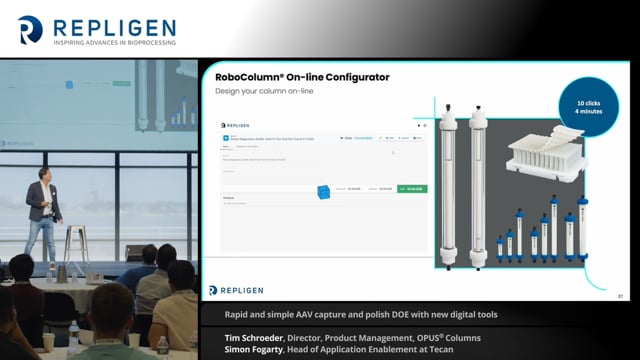 OPUS ValiChrom Pre-packed Columns for process validation
OPUS ValiChrom Columns are high performance glass pre-packed columns designed to be exact scale-down models of corresponding full-scale chromatography columns. Each column is individually flow-packed according to validated packing protocols with the precision of 1 mm bed height.
Pre-packed with user-specified chromatography resin - over 300 resins

Can be packed to any desired bed height between 5 and 60 cm

Flow-packed with correct resin compression factor to simulate performance of process columns

Convenient diameter tubing simplifies calculations

Fixed bed height standardizes adaptor constructions

Jacketed biocompatible precision bore borosilicate glass column allows visualization of resin across the fullbed height

Certificate of Analysis (CoA) includes efficiency (Plate/m), asymmetry, and pressure flow rate.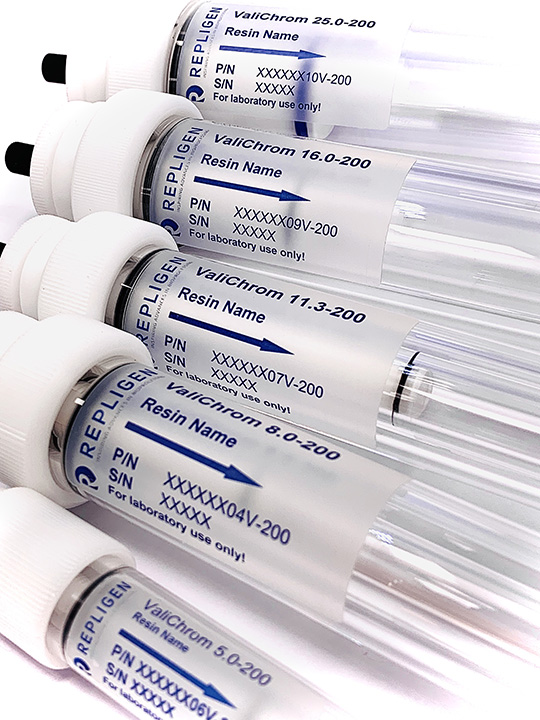 Manufacturing Centers of Excellence
Repligen develops and manufactures products for the biopharmaceutical industry under an ISO 9001 quality management system. We focus on the timely delivery of high quality, consistent and robust products, to ensure business continuity for our customers.
Repligen manufacturing sites are located in Massachusetts, California, and New Jersey in the United States and in Sweden, France, The Netherlands, Germany and Estonia.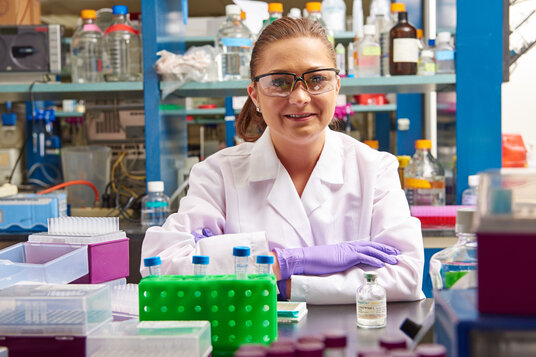 Customer First.
Support is part of the Repligen DNA. Our goal is to provide exceptional customer experience, and to support the efficient and successful adoption and implementation of all Repligen products and services.
Field Application Support

Customer Service

Field Service Engineers
Specifications
Column inner diameter

0.50 cm

0.66 cm

0.80 cm

1.00 cm

1.13 cm

1.60 cm

2.50 cm

Packed bed height

10 - 60 cm (customized)

Column volume range*

2-12 mL

3-20 mL

5-30 mL

8-45 mL

10-60 mL

20-120 mL

50-300 mL

Inner cross-sectional area

0.2 cm2

0.34 cm2

0.5 cm2

0.79 cm2

1.0 cm2

2.0 cm2

5.0 cm2

Connectors

1/16" Female (10-32)

M6 female

Chemical stability

All commonly used aqueous buffers, pH 1-14, organic solvents**. Avoid the use of halogenated solvents, hexane

Column storage solution

AIEC and CIEC Columns: 20 % ethanol + 150 mM sodium chloride
HIC, SEC, Affinity and MMC Columns: 20 % ethanol
CHT, CFT Columns (Bio-Rad): 20 % ethanol + 10 mM sodium phosphate, pH 6.8
ProSep® Columns(Millipore):1 % benzyl alcohol + 0.1 M sodium acetate, pH 5.1

Recommended storage temperature

AIEC, CIEC, HIC, SEC and MMC: +4°C to +30°C
Affinity Columns: +2°C to +8°C

Working temperature

+4°C to +30°C

Maximum working pressure

Up to 30 bar

Materials of construction

Outer tube: PMMA; Inner tube: Boresilica glass; Frit: Freudenberg PE/PP 7 - 12 µm pore size

* The actual column volume of the packed bed is specified by the selected bed height. Customized bed heights < 10 cm are available upon request.
** The chemical stability of the packed chromatography resin also has to be taken into consideration. For more information, please refer to the manufacturer's resin specification.