TangenX SC TFF Device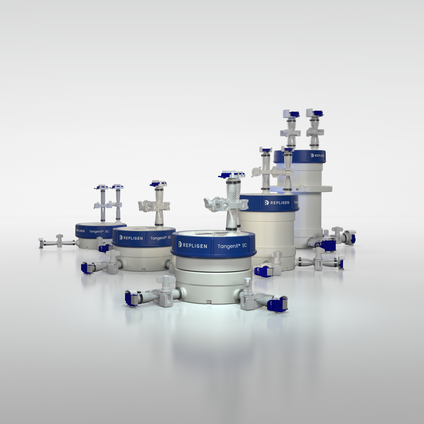 TangenX® SC TFF Device: Revolutionize tangential flow filtration processes
Eliminate the hassle and inefficiency that comes with traditional downstream filtration cassette formats. Say goodbye to cassette holders, complex setups, continued torquing, wasted time, and product loss risks. Discover TangenX® SC, the future of TFF cassette solutions for ultrafiltration and diafiltration, designed to meet the demands of today's TFF processes while dramatically reducing setup time and minimizing product loss risk.
Easy-to-use
Plug and Play solution
No cassette installation, stacking or aligning
No holder, no torquing, no re-torquing
Improve efficiency
Reduce setup time by 80%
Minimal operator intervention and manipulation
No bulky holders to move around
Enhance productivity
Minimize risk of product loss due to misaligned cassettes or loss of compression
Aseptically closed, gamma sterilization reduces bioburden risk
Scalable solution
Scalable from 0.5m2 to 10m2
Easily scale from traditional cassette formats
Consistent performance
Comparable product performance to traditional cassette formats
Individually tested for integrity and hydrodynamic performance
TangenX SC is a self-contained, single-use, gamma sterilized TFF device that does not require a holder.

Consistent, robust device performance
TangenX SC self-contained TFF devices are designed to address your downstream filtration needs:

Easy-to-use True Flat Sheet Device: TangenX SC is your plug-and-play solution reducing the setup time by a remarkable 80% because no holder is required. Say goodbye to the multi-step setup procedures and torquing required by traditional cassettes and holders

Scalable: TangenX SC devices are scalable within the product family and designed to be cross-scalable with TangenX SIUS® single-use cassettes and TangenX PRO reusable cassettes by maintaining the same flow path length and height

Improved Productivity: With TangenX SC, the filters are contained within the device ensuring the integrity of your process and minimizing the risk of product loss

Reduced Process Support Time: TangenX SC eliminates torquing before and during a run and simplifies decommissioning, allowing you to focus on what matters - your process and facility efficiency

Consistent TFF Cassette Performance: With the same high performing membranes and channel geometry and flow path length as other TangenX cassettes formats, you can expect the same exceptional TFF performance with TangenX SC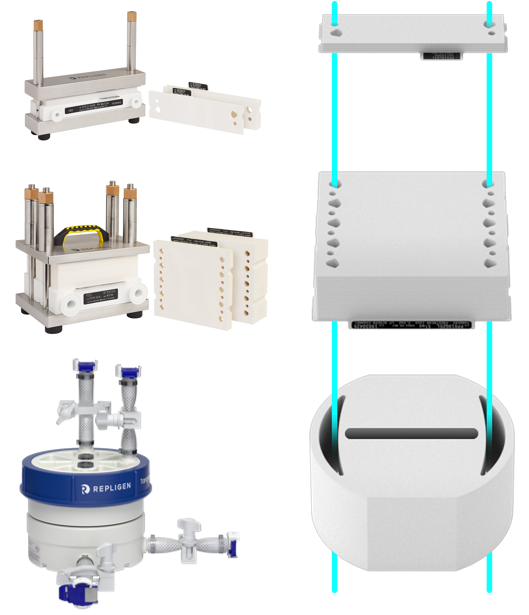 Unlock TangenX SC's Value
Our self-contained TFF devices are a game-changer for process-scalable UF/DF. Here's what sets TangenX SC apart:
No Holder or Torquing Required: Our innovative design eliminates the need for holders and torquing, reducing setup time, minimizing product loss risk, and enhancing overall facility efficiency
True Flat Sheet Technology: Experience the benefits of a true flat sheet TFF device, unmatched in efficiency, scalability, and reliability
Closed, Sterile, and Gamma Irradiated: Minimize bioburden risk and enhance operator safety with our closed, gamma-irradiated TFF device
Compatible with Any TFF System: The small foot-print of TangenX SC minimizes space requirements and facilitates seamless integration with your existing TFF systems
No Sanitization Required: Forget about laborious sanitization routines. TangenX SC simplifies your workflow, saving you both time and labor costs
TangenX SC is not just a product; it's a solution that streamlines your TFF processes, saving you time, effort, and resources while de-risking your process.
Product Formats: Solutions designed to scale with your process
TangenX SC TFF devices are available in a range of sizes and membrane choices designed to meet your TFF needs for clinical and commercial manufacturing volumes.
Surface Area

Membrane Type

Screen Type

MWCO

Crossflow at 10 psi / 0.7 bar

Hold up Volume

Height

Diameter

0.5 m2

ProStream and HyStream membranes (mPES)

L Screen

10 kD

30 kD

50 kD

100 kD

300 kD

2 - 4 L/min

0.33 L

5.9 in (15.0 cm)

10 in

(25.4 cm)

1.5 m2

6 - 12 L/min

0.84 L

7.7 in (19.7 cm)

2.5 m2

10 - 20 L/min

1.23 L

9.3 in (23.6 cm)

5.0 m2

20 - 40 L/min

2.19 L

13.1 in (33.3 cm)

10 m2

40 - 80 L/min

4.41 L

20.6 in (52.3 cm)
TangenX SC Product Performance
TangenX SC TFF Devices are designed to be easy-to-use
Repeatable Performance
TangenX SC is designed for the ultimate ease of use. The product performance does not rely on proper alignment of cassettes in a holder or maintaining proper compression of the cassettes. Simply snap the AseptiQuik® connections into your system flow path and you are ready to run.
Easy to Condition
TangenX SC comes pre-sanitized with a small hold-up 0.2M NaOH and then sterilized. Conditioning for use is as easy as a flush with WFI or buffer and the process is ready to begin.
Easy Deployment
The small footprint of TangenX SC and the elimination of bulky stainless steel holders makes installation either on the benchtop or in a manufacturing suite hassle-free.