High Productivity Harvest
High Productivity Harvest (HPH) is a novel application developed by Repligen that enables the harvest of a Fed-Batch bioreactor in a fully sterile manner ready for processing on a capture column, eliminating both centrifugation and depth filtration.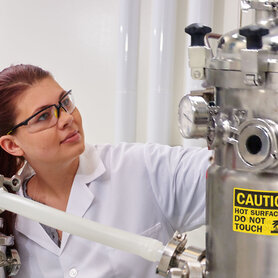 High Productivity Harvest (HPH) uses an XCell ATF® Cell Retention Device after peak density is achieved in a typical Fed-Batch process. Fresh media is added in a set flow rate while the harvesting of the product is initiated. A closed single step process using a 0.2 µm filter, HPH can generate the same product titer in half the time or twice the product compared to traditional Fed-Batch at no additional time.
Whether your intended application is mAb, rProteins, lentivirus, enzymes, or vaccines, HPH can boost productivity and deliver more product, faster.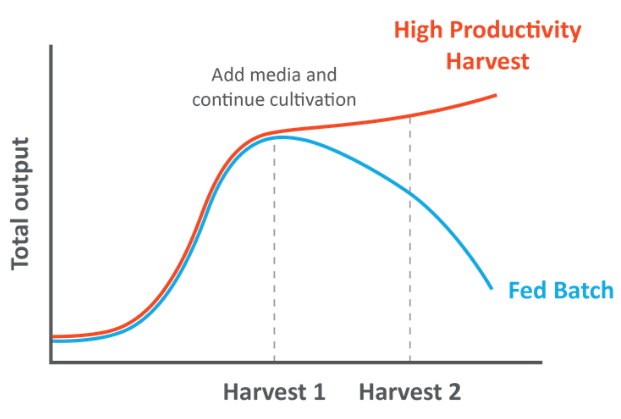 Repligen solutions help overcome key challenges in High Productivity Harvest, with hands-on process and implementation consultation from global Field Applications Specialists.
High Productivity Harvest Workflow
Click on the workflow link to find productivity and throughput solutions you can implement today.
Increase productivity
Generate up to 2X increase in protein production without additional time, OR
Harvest days earlier at the same titer, increasing throughput
Improve processes
Produce a healthier culture with lower process related impurities
Reduce number of unit operations and raw materials
Transition to a single-step 0.2 µm filtered, closed system
Harvest material ready for downstream purification
Maintain a Fed-Batch process
HPH increases productivity and throughput while maintaining a fed batch process. No perfusion or media exchange of the N bioreactor is required, allowing the N bioreactor to maintain a single and discreet fed batch harvest point.
HPH yielded 5X more VCD
HPH achieved 20 million viable cell density (VCD) compared to 4 million for Fed-Batch. HPH viability was maintained above 100% over a period of 8 days. Fed-Batch viability began to drop after day 3 to approximately 75% at days 8-9. Higher VCD and viability translated to an increase in total product yield. HPH yielded approximately 1500 mg/day while the Fed-Batch process achieved 800-1000 mg/day in approximately 8-10 days.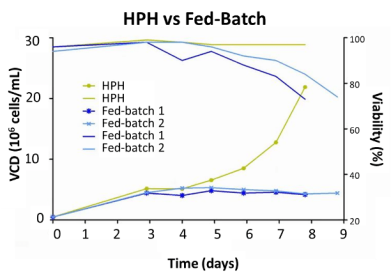 Higher VCD and viability with HPH
4X Viable cell density with HPH Fed-Batch compared to Fed-Batch
Viability maintained near 100%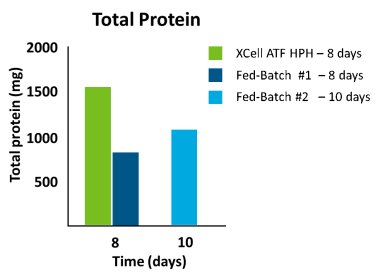 Higher product titer with HPH
2X more product than traditional Fed-Batch
Harvest in same (or fewer) number of days as Fed-Batch
High Productivity Harvest Webinar
The webinar demonstrates how HPH works, presents initial results of up to a two-fold increase in protein production, and illustrates how you can apply HPH specific to your product need or facility design.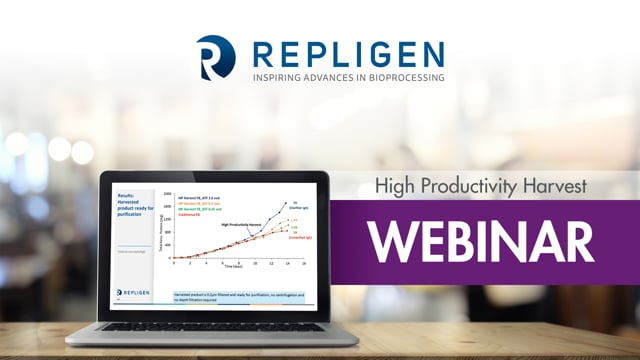 How it works
A representative example of an HPH process is shown below. It consists of three main steps: start of Fed-Batch process, attachment of a Cell Retention Device for High Productivity Harvest, followed by bioreactor draw down. HPH start date is flexible and depends on the process. Harvest can be completed in the same timeframe as traditional Fed-Batch or the bioreactor run can be extended for further yield increase depending on process and facility constraints.
Step A: Process start
Start the fed-batch process as usual.  
Step B: CRD attachment and High Productivity Harvest
Once the peak cell density is achieved, attach the cell retention device (CRD) and start to pump in fresh media at a low flow rate. As fresh media is pumped in, product harvesting is slowly initiated.
Step C: Draw down
On the last day of the run, stop the addition of fresh media and start to draw down the volume in the bioreactor.
Step D: Process finish
HPH Fed-Batch can be completed in the same timeframe as traditional Fed-Batch or the production run extended to further improve yield.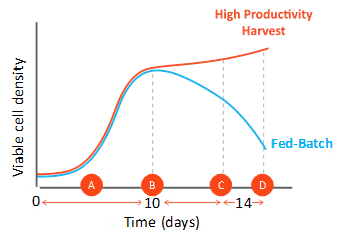 Note: In this example, media exchange was started on Day 10, but can be customized to the process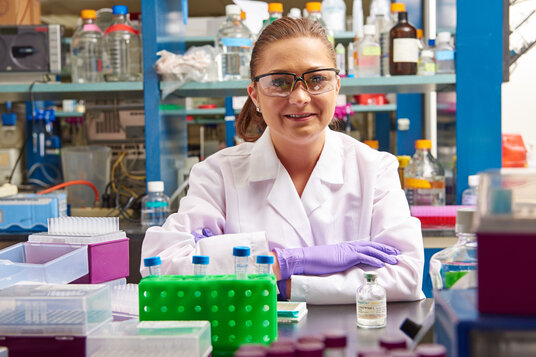 Customer First.
Support is part of the Repligen DNA. Our goal is to provide exceptional customer experience, and to support the efficient and successful adoption and implementation of all Repligen products and services.
Field Application Support

Customer Service

Field Service Engineers