SpectraPor® Micro Float-A-Lyzer®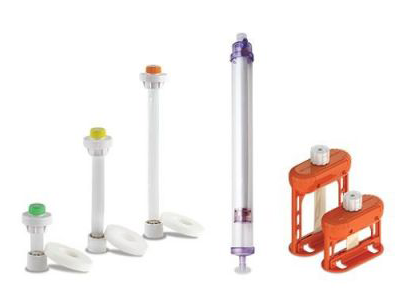 Micro Float-A-Lyzer® ready-to-use dialysis devices are all made with proprietary Biotech Grade CE dialysis tubing, preassembled with volume specific lengths of membrane tubing and designed to maximize convenience, ease-of-use and sample recovery.
Unique design
Tubular membrane for max surface area with incorporated air bladder, stand and interlocking pegs
Easy to use
Screw-on cap and pipette provides easy and safe sample loading and in-process testing with no dangerous needles
Total sample recovery
Syringe aspiration of clamp sealed membrane for 90-98% sample recovery
Broad MWCO range
7 MWCO's from 0.1 - 100 kD for molecular selectivity from small peptides to large nanoparticles
High purity
Achieve 98% sample purity with Biotech CE membrane, no heavy metals and sulfides
Featured application
Drug Dissolution: Controlled release for dose determination
USP Apparatus 2 and 4 compatible
Designed for ultimate convenience, the Micro Float-A-Lyzer® significantly improves handling and dialysis of microliter volume samples. This ready-to-use dialysis device is constructed with high purity Biotech Grade Cellulose Ester (CE) membrane in 7 concise MWCOs from 0.1-100 kD for better molecular selectivity. The Luer® port and included syringe allow for easy loading, in-process testing and sample retrieval without risking needle punctures.
Biotech CE exhibits a fair chemical compatibility and tolerates pH 2-9 and temp 4-37 °C. Exposure to most organic solvents is not recommended and should be confirmed on the Repligen Chemical Compatibility table.
FEATURES
2 ready-to-use volume sizes (100-200 µl and 400-500 µl)
7 concise MWCO's for better separations & selectivity
High purity Biotech Cellulose Ester (CE) membrane
Included syringe and Luer sample port for easy access (no needles)
Self-standing, self-floating and interlocking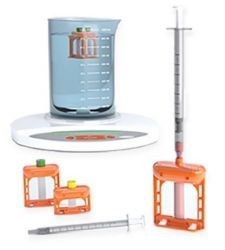 Data section in reprehenderit in voluptate velit esse cillum dolore eu fugiat
Typical Dialysis Applications for Micro Float-A-Lyzer® Dialysis Devices
Drug dissolution and controlled release studies
Salt, urea, surfactant and cesiuam removal
HPLC sample preparation
pH change, buffer exchange and final formulation
Purification of Protein, DNA, plasmids, macromolecules, nanoparticles and liposomes
Biopolymer purification and removal of monomers
Enzyme activity and ligand binding studies
DNA and Protein electroelution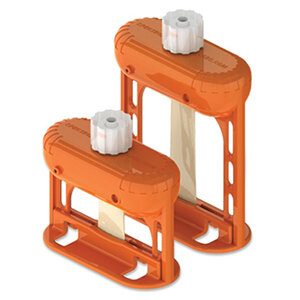 | 2 Volume Sizes | 100-200 µl | 400-500 µl |
| --- | --- | --- |
| Height | 4.4 cm | 6.3 cm |
| Width | 4.5 cm | 4.5 cm |
| Thickness | 1.9 cm | 1.9 cm |
| Membrane flat width | 10 mm | 10 mm |
| Membrane diameter | 6.4 mm | 6.4 mm |
| 7 MWCOs | Color Code |
| --- | --- |
| 0.1 - 0.5 kD | Green |
| 0.5 - 1.0 kD | Orange |
| 3.5 - 5 kD | Black |
| 8-10 kD | Yellow |
| 20 kD | Red |
| 50 kD | White |
| 100 kD | Blue |
Membrane type

Biotech Grade Cellulose Ester (CE)

PP Luer-Lok cap

Open and close for in-process sampling
Color-coded for MWCO
Leak proof and re-sealable

Body piece

Seals top/bottom ends of membrane
Buoyant and self-orienting
Polycarbonate

Potting

Polyurethane

Sample loading

1 ml syringe (included)

Packaging

12/package
SpectraPor® Micro Float-A-Lyzer® Dialysis Device Part Numbers
| | | | | | |
| --- | --- | --- | --- | --- | --- |
| | MWCO | Color Code | 100 - 200 µl | 400 - 500 µl | Quantity |
| | 0.1 - 0.5 kD | Green | | | 12/pkg |
| | 0.5 - 1 kD | Orange | | | 12/pkg |
| | 3.5 - 5 kD | Black | | | 12/pkg |
| CE | 8 - 10 kD | Yellow | | | 12/pkg |
| | 20 kD | Red | | | 12/pkg |
| | 50 kD | White | | | 12/pkg |
| | 100 kD | Blue | | | 12/pkg |