KrosFlo® TFF Systems
Turnkey systems for tangential flow filtration (TFF), KrosFlo® Systems are compatible with single-use hollow fiber filters and/or flat sheet cassettes, modernizing how UF/DF is performed at every stage from process development to large-scale manufacturing.
Discover your next KrosFlo® TFF System
Adored and economical with good automation 5mL - 500L
Revered for its simplicity and capability, the Repligen KrosFlo® KR2i, KMPi, RPM and FS family of systems are some of the most widely used lab scale TFF platforms in the world.
Highly configurable, small footprint with better automation 200L - 5000L
Popular in pilot scale and flexible manufacturing environments, the KrosFlo® KTF series offers unrivalled configurability to support multiple scales, unit operations and solutions while retaining a small footprint. Customization available upon request.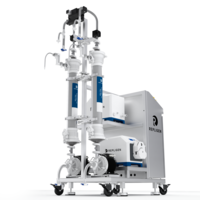 KrosFlo® KTF TFF Systems
The KrosFlo KTF are a series of highly configurable single-use TFF systems for multiple unit operations, applications, and filter types. With volumes spanning across 1 to 5000L, users enjoy the unrivaled flexibility of processing large and small batch sizes within the same platform.
cGMP compliant with end-to-end automation 1L - 2000L
Ideal for mRNA and gene therapy production, KrosFlo® RS TFF series are industrial grade, fully automated cGMP manufacturing systems designed to take on an era of new modalities. Customization available upon request.