OPUS® Pre-packed Chromatography Columns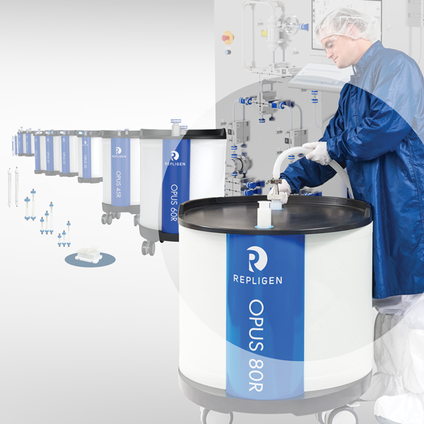 LEADER OF THE PACK
OPUS® Pre-packed Chromatography Columns provide linear scale-up from process validation to commercial and GMP manufacturing.
Use of pre-packed columns in downstream chromatography has increased in response to the needs of multi-product facilities and initiatives focused on reducing change over time. In particular, adopters of pre-packed columns have realized the following benefits:
Quick and easy set-up
Rapid change over (no column packing, unpacking, or cleaning validation)
Operational flexibility for multi-product facilities
Reduced capital expense
Reduced operational cost
Eliminate column packing issues
Replacing traditional self-packed glass or stainless steel columns, pre-packed columns are packed by experts in state of the art facilities and are delivered ready to use for GMP processing.
The ability of pre-packed column suppliers to focus their operations on column packing results in more consistently packed columns over time. This allows a bioprocessing facility to outsource column packing, a non-value added step for making therapeutic proteins, and no longer worry about column packing issues. This transfer of operational risk helps adopters of pre-packed columns to maintain leaner operations and focus on the most critical aspects of making and purifying therapeutic proteins.
As the industry evolves to incorporate continuous processing, pre-packed columns are a perfect fit for multi-column chromatography. Banks of multiple pre-packed columns can be delivered ready to run eliminating the need for multiple self-packed columns. In addition, the potential for pre-packed columns to be gamma sterilized provides a compelling value proposition for companies looking to implement multi-column chromatography.