Click and quote OPUS® PD Pre-packed chromatography columns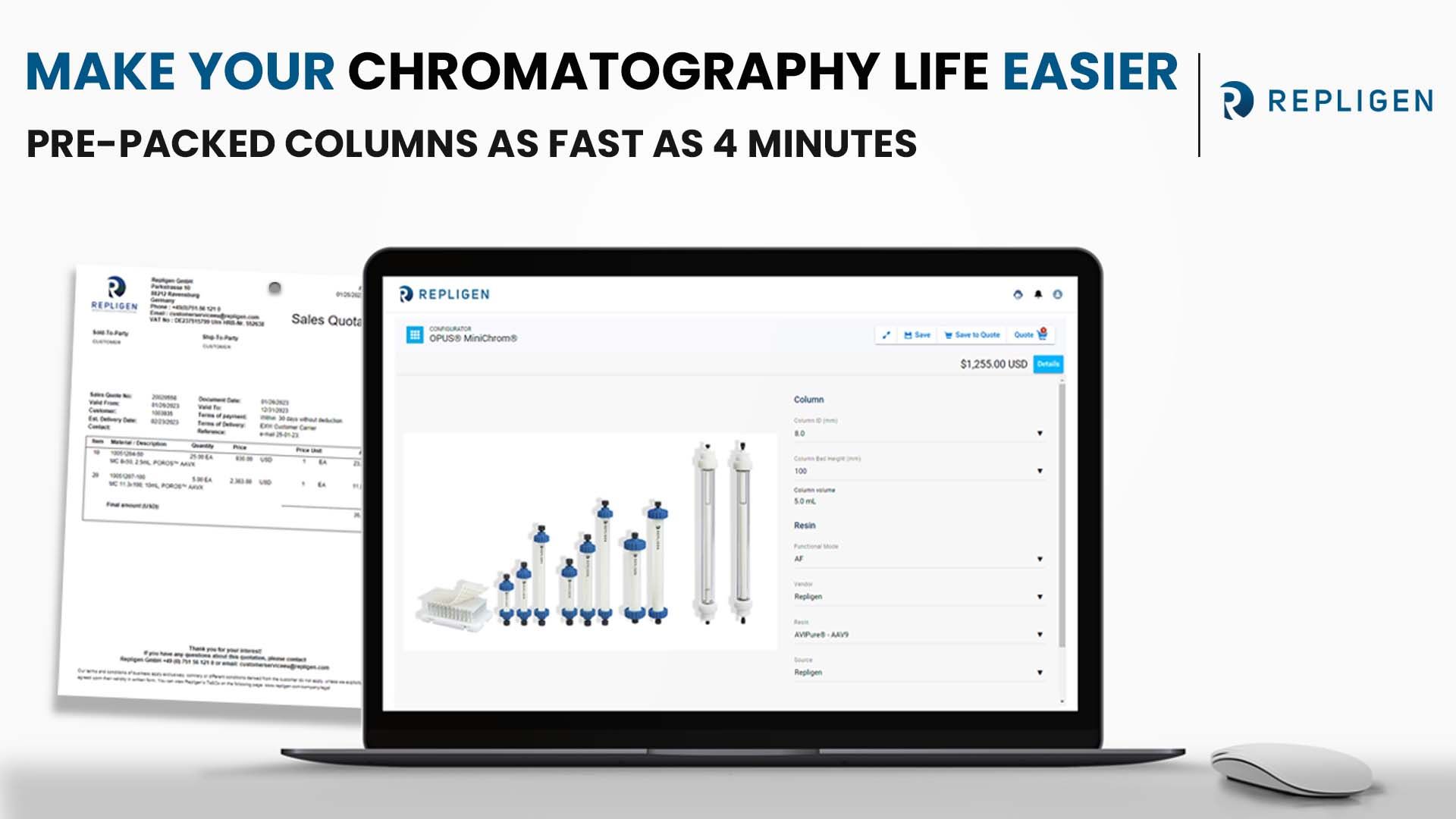 Configure and quote pre-packed columns using the latest web-based technology.
When you are planning your next set of small-scale chromatography experiments, configure the columns online and obtain a quote in minutes. Simply login, select your format, volume and resin that meets your experimental design and add to cart. A quote with all details and pricing will be emailed to you within minutes.
Make your chromatography life easier.
FLEXIBILITY
Flexibility with pre-packed convenience
Pre-packed with user-specified chromatography resin - over 300 resins
Consistently packed with correct axial compression
Operating linear flow-rate controlled by dispensing speed of the liquid handling workstation
Demonstrated scale-up and scale-down due to constant residence time
Large number of samples per time, ability to multiplex
Available formats
Internal Diameter

Bed Height

Column Volume

cm
mm
cm
mm
mL
µL
0.5
5.0
0.25
2.5
0.05
50
0.5
5.0
0.50
5.0
0.10
100
0.5
5.0
1.00
10.0
0.20
200
0.5
5.0
2.25
22.5
0.45
450
0.5
5.0
2.50
25.0
0.50
500
0.5
5.0
3.00
30.0
0.60
600

Minimum order is one row of 8 OPUS RoboColumn pre-packed columns with the same resin and column dimension.
Automation
Automated parallel chromatography
Shorten process development time significantly by performing parallel operation of OPUS RoboColumn pre-packed columns in robotic liquid handling workstations, implementing chromatography Design of Experiment (DOE) and QbD (Quality by Design).
Designed for robotic fluid handlers
Compatible with both Tecan and PerkinElmer platforms, the preferred supplier for OPUS RoboColumn automation is the Tecan Freedom EVO® robotic workstation.
Simultaneous automated step-gradient elution into a 96-well plate

Subsequent analysis in an integrated plate reader

Flexible software wizard
The combination of OPUS RoboColumn and the Tecan Freedom EVO® robotic workstation delivers a complete integrated platform for state-of-the-art small-scale protein purification.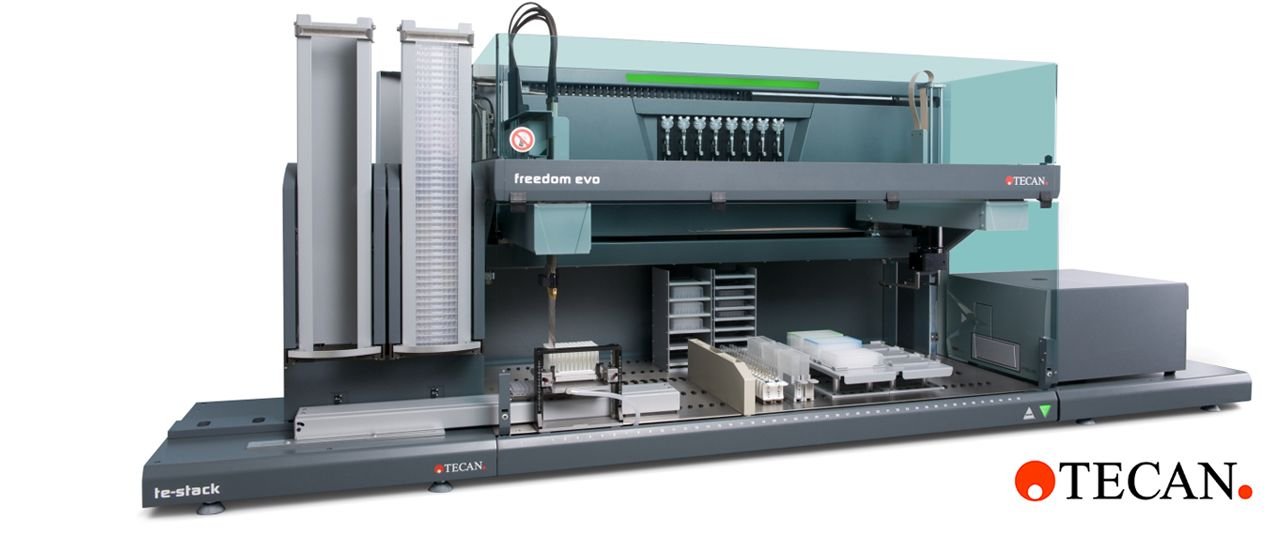 Rapid and simple AAV capture and polish DOE with new digital tools
This outline describes the advanced and fully automated purification development and optimization for an AAV vector with OPUS® RoboColumns® and Tecan's Fluent™ robotic workstation.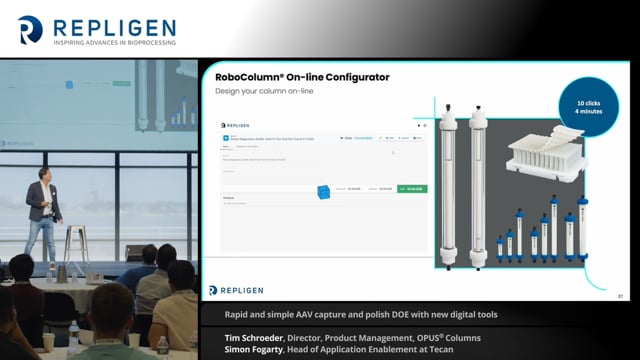 High Performance
Process Development
Resin screening / Condition screening
Development of a purification process for a specific molecule requires evaluation of the resin as well as operation conditions for each chromatography step. Using OPUS RoboColumn on a Tecan Freedom EVO® generated up to 96 pseudo-chromatograms (1536 data-points) in 1.5 days when comparing 12 CIEX resins at 8 different pH 3.7-7.0.
8 chromatographic separations in parallel with 16 fractions each in 16 minutes
96 individual buffers in 10 minutes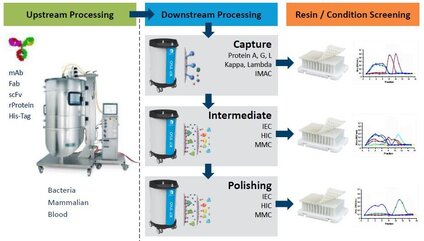 Sample Preparation / Process Analytical Technology (PAT)
In-process fermentation monitoring
Protein characterization
Drug discovery
The development and manufacture of a biotherapeutic requires significant analytical characterization of in-process intermediates. Non-purified samples require sample preparation before analysis can be executed. OPUS RoboColumn enables one-step purification of multiple samples in parallel.
Using the OPUS RoboColumn on a Tecan Freedom EVO® generates 2mg to 24mg API (Active Pharmaceutical Ingredient) per RoboColumn® run.
OPUS RoboColumn Pre-packed Chromatography Colums
Used in the industry since 2007, OPUS RoboColumn pre-packed columns are designed to work with robotic fluid handlers for fully automated parallel chromatography.
Up to 96 RoboColumn pre-packed columns (8 column types in parallel) can be individually arranged on a 96-well array plate according to application requirements. Resin is contained to form a bed between two filter frits and validated with consideration to resin compression requirements, to ensure high efficiency, good asymmetry and robust chromatography performance.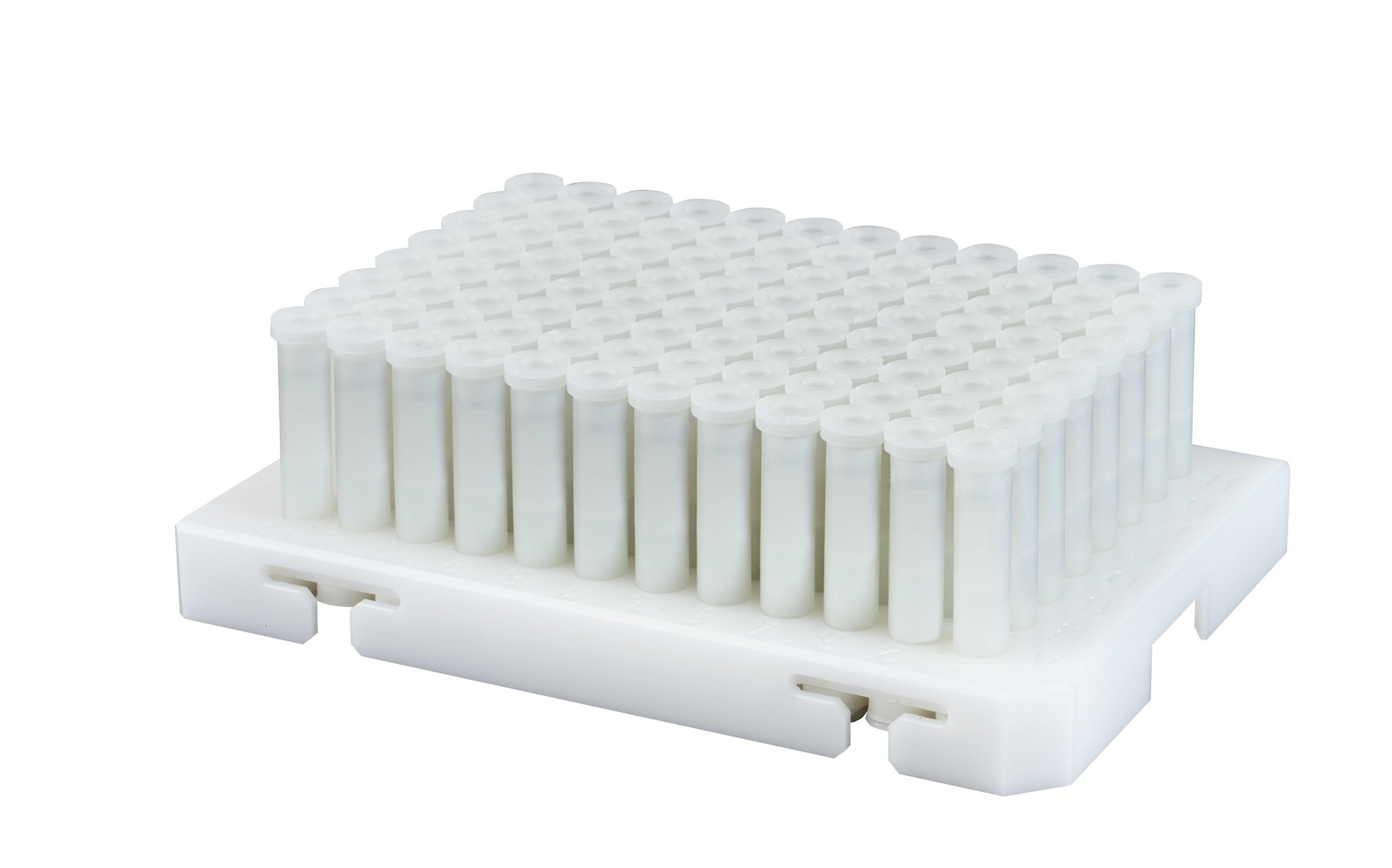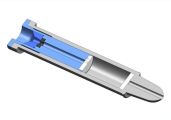 OPUS® RoboColumn®
internal design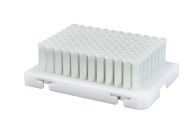 OPUS® RoboColumn®
96-well plate

OPUS® RoboColumn®
5 mm ID x 30 mm H; V = 600 µL

OPUS® RoboColumn®
5 mm ID x 10 mm H; V = 200 µL

Manufacturing Centers of Excellence
Repligen develops and manufactures products for the biopharmaceutical industry under an ISO 9001 quality management system. We focus on the timely delivery of high quality, consistent and robust products, to ensure business continuity for our customers.
Repligen manufacturing sites are located in Massachusetts, California, and New Jersey in the United States and in Sweden, France, The Netherlands, Germany and Estonia.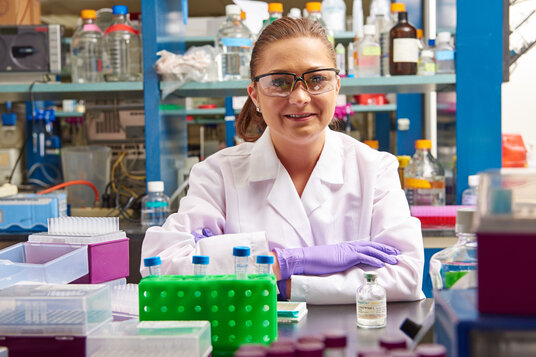 Customer First.
Support is part of the Repligen DNA. Our goal is to provide exceptional customer experience, and to support the efficient and successful adoption and implementation of all Repligen products and services.
Field Application Support

Customer Service

Field Service Engineers
Specifications
Plate size

128.3 L x 86.0 W x 14.0 mm H

Plate material

Polyoxymethylene copolymer

Number of wells

96

Column volume

50 µL

100 µL

200 µL

450 µL

500 µL

600 µL

Bed height

2.5 mm

5.0 mm

10.0 mm

22.5 mm

25.0 mm

30.0 mm

Column inner diameter

5 mm

Column material

Polypropylene

Chemical stability

All commonly used aqueous buffers, pH 1 – 14, organic solvents*. Avoid the use of halogenated organic solvents, hexane

Column storage solution

AIEC and CIEC Columns: 20 % ethanol + 150 mM sodium chloride
HIC, SEC, Affinity and MMC Columns: 20 % ethanol
CHT, CFT Columns (Bio-Rad): 20 % ethanol + 10 mM sodium phosphate, pH 6.8
ProSep® Columns(Millipore):1 % benzyl alcohol + 0.1 M sodium acetate, pH 5.1

Recommended storage temperature

AIEC, CIEC, HIC, SEC and MMC: +4°C to +30°C
Affinity Columns: +2°C to +8°C

Working temperature

+4°C to +30°C

Maximum working pressure

Up to 8.0 bar

Flow velocity

16 – 1000 cm/h**

Labelling

Laser-etched on every individual column body. Label contains:

Product number
Resin name
Column volume in µL

* Note: The chemical stability of the packed chromatography resin has also to be taken into consideration. For more information please refer to the manufacturer's resin specification.
** The Liquid Transfer menu of the Te‑Chrom™ Wizard enables set up of the flow rate for each individual dispensing and chromatography step (5.1.1.6 Liquid Transfer, Te‑Chrom™ Wizard Software Manual, 396076, en, V1.0).