integrated
Modular, plug-and-play hardware with peristaltic pump
The KrosFlo® KMPi TFF System achieves an unparalleled combination of integration, configurability and automation through modular, plug-and-play hardware. All components, either directly or indirectly, connect to the main KrosFlo® KMPi peristaltic pump, which then communicates with the KF Comm 2 software for control and monitoring.
Configure a minimal number of components for simple applications such as concentration (C) or diafiltration (D)
Plug-and-play additional components for fractionation (F) and multi-step processes (i.e. CDC/D/C)
Click on the tabs below to explore different combinations of concentration and diafiltration configurations using the KrosFlo® KMPi System.
Concentrate with a streamlined configuration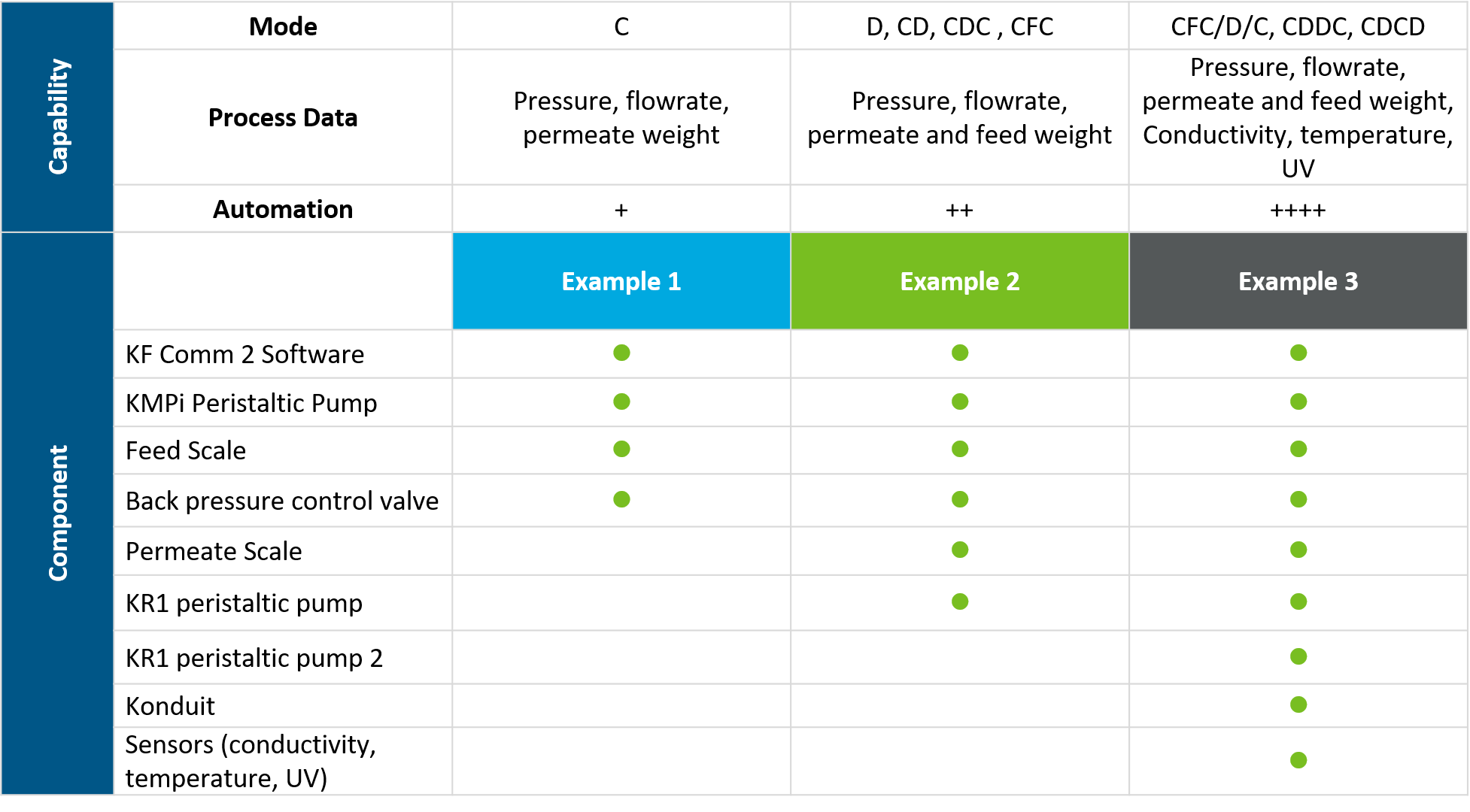 C = Concentration D = Diafiltration F = Feed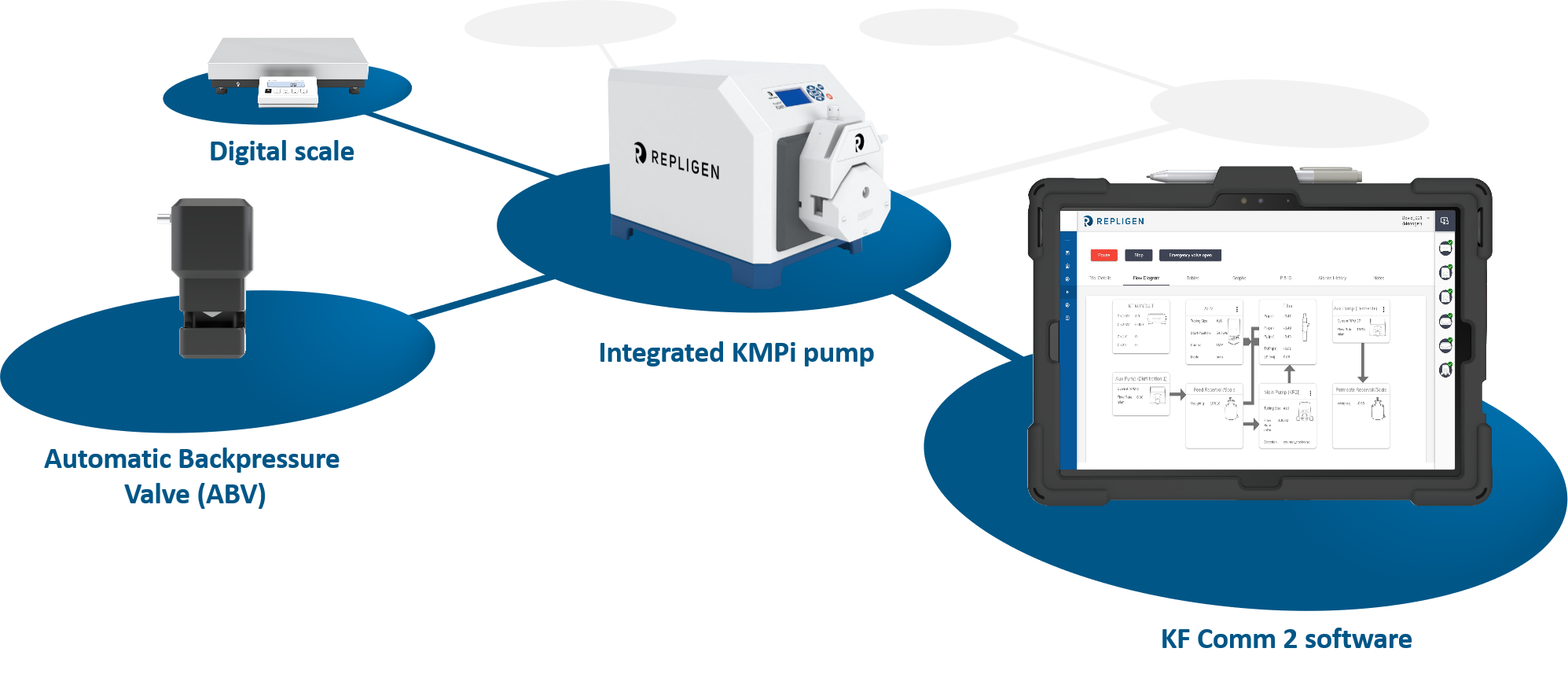 Add a scale and auxiliary pump to access diafiltration applications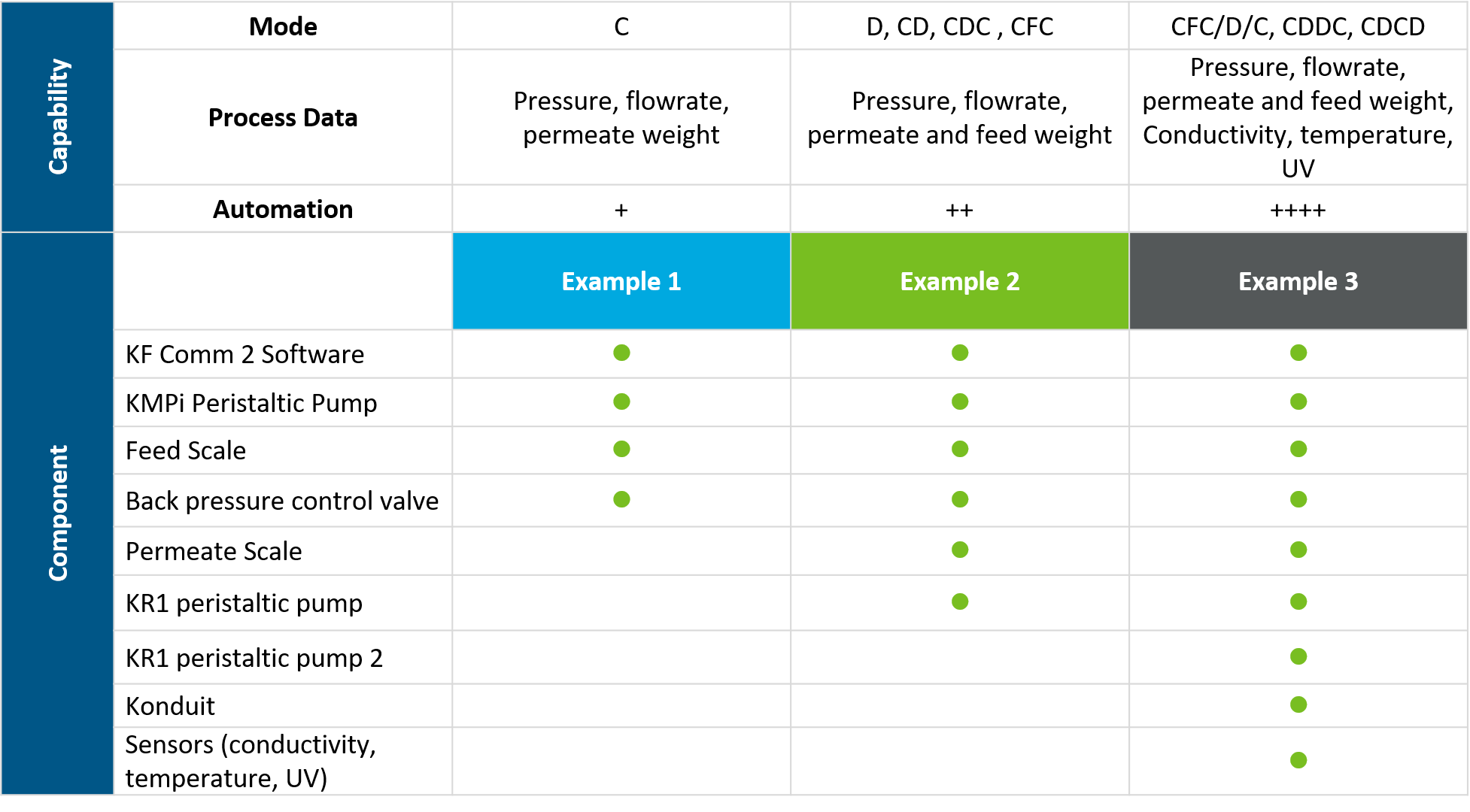 C = Concentration D = Diafiltration F = Feed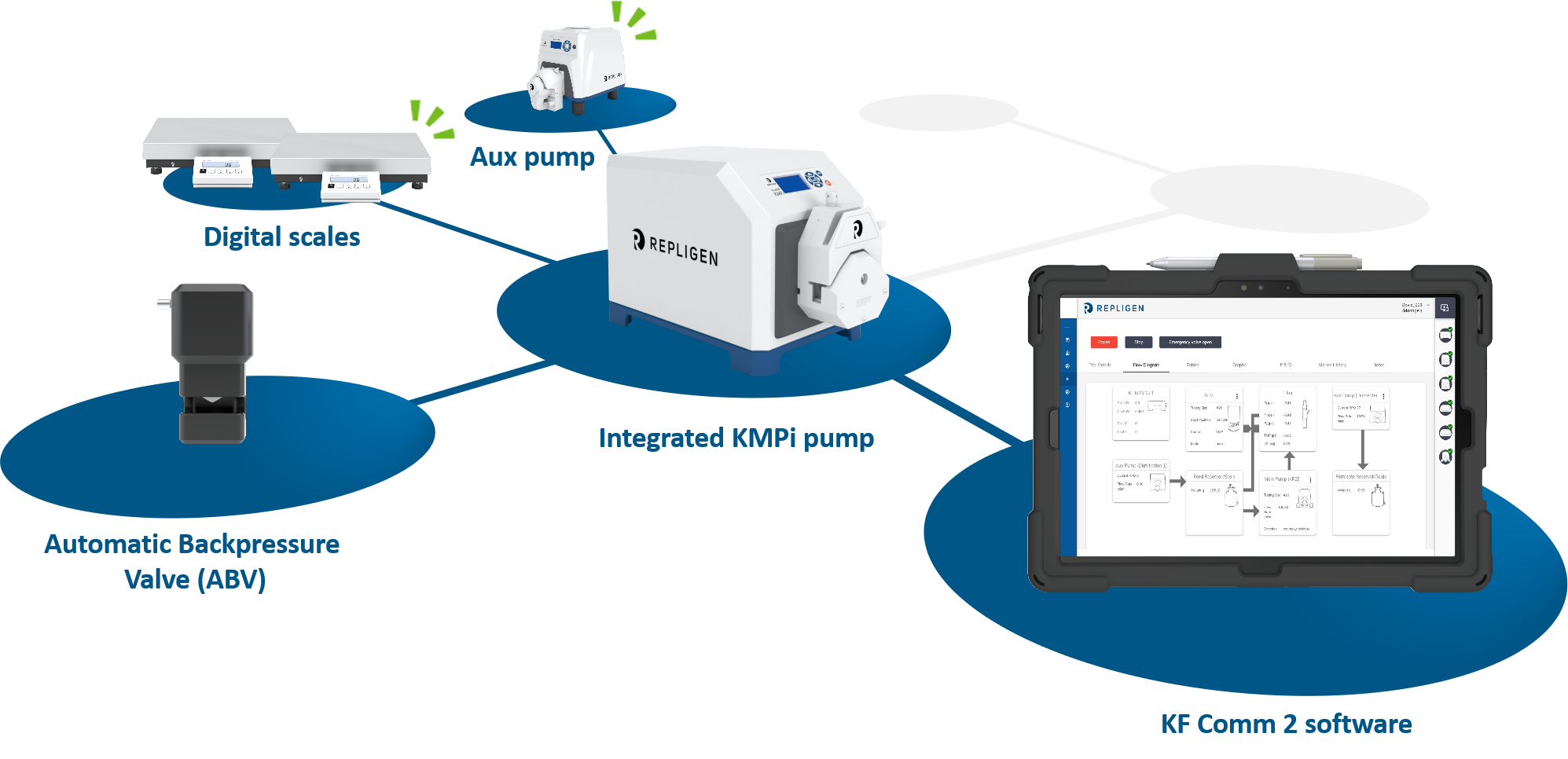 Build process understanding with increased sensors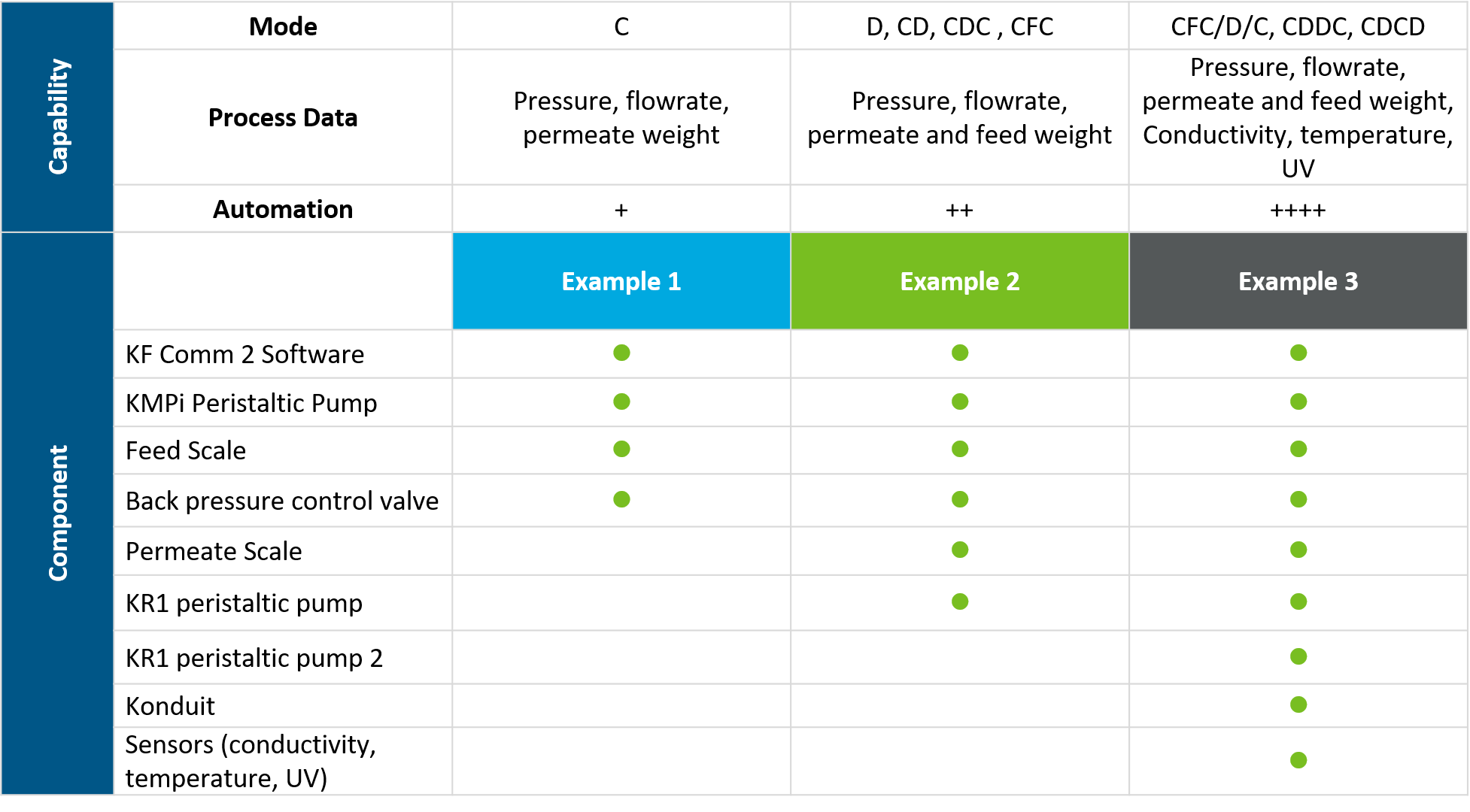 C = Concentration D = Diafiltration F = Feed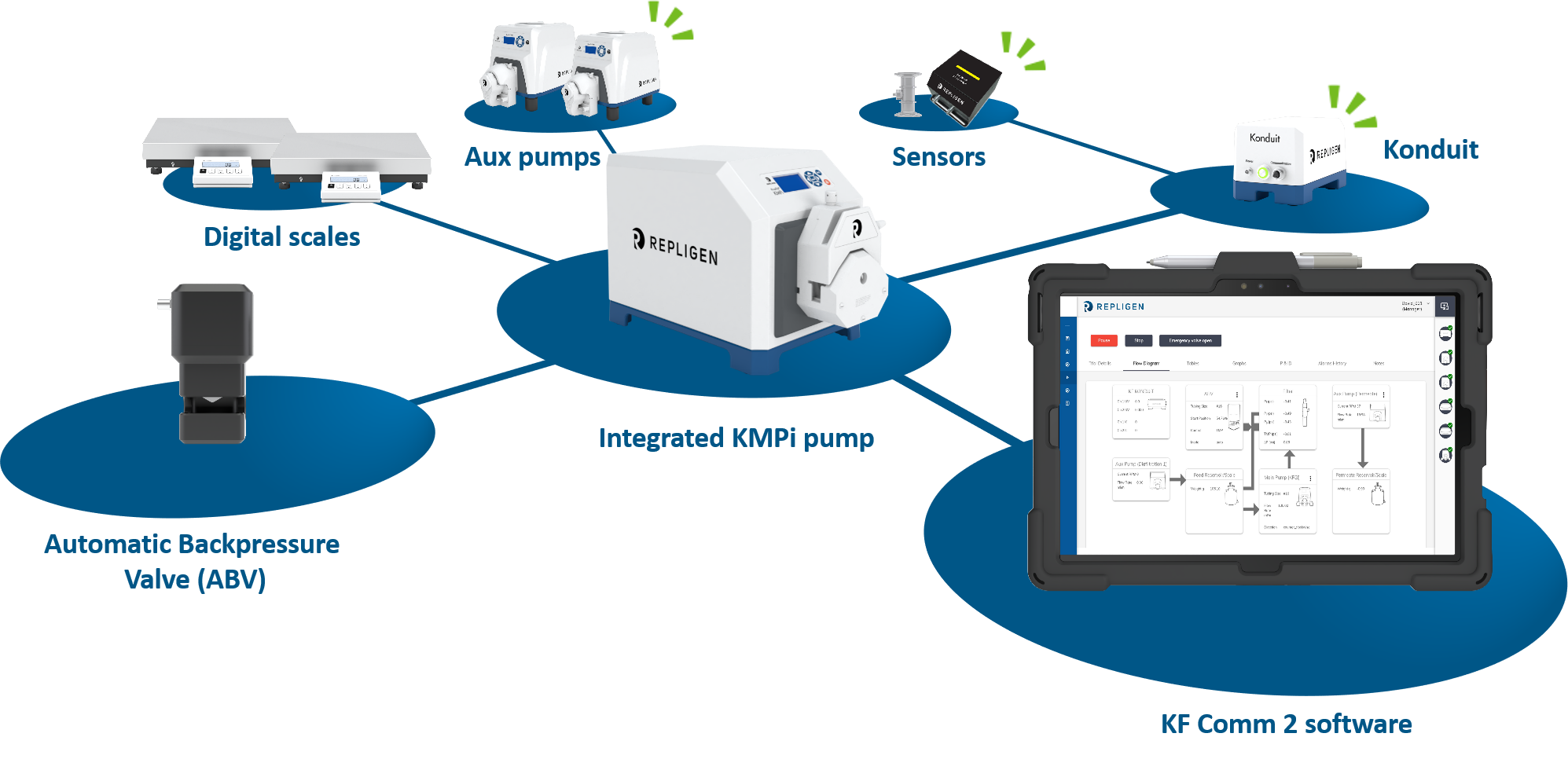 integrated
Configurable ProConnex® Flow Paths
Enhanced through an engineering design process, ProConnex® Flow Paths are customized, configurable and complete assemblies for tangential flow filtration. Designed for use with hollow fiber and/or flat sheet TFF systems, the assemblies are sterile, fit for upstream or downstream processing and manufactured in compliance with ISO guidelines in an ISO 7 clean room.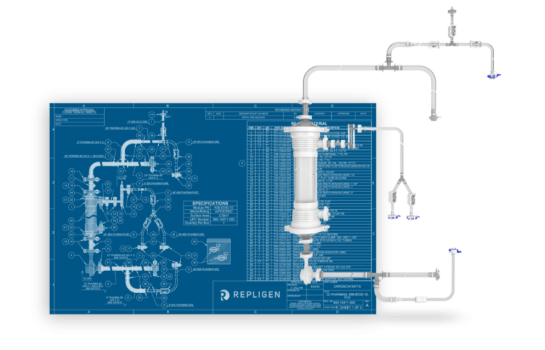 integrated
Transfer bi-directional data through
proprietary board
An advanced microprocessor-based controller is integrated into the main KrosFlo® KMPi System pumps, enabling plug-and-play hardware component behavior. Bi-directional communication is established between the KF Comm 2 software and hardware components, such as the Automatic Back Pressure Control Valve, scales, auxiliary pumps and the Konduit device.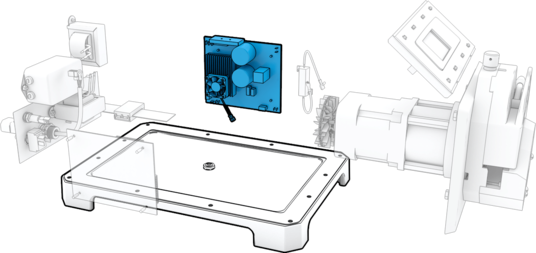 AUTOMATED
Menu-driven Software for Optimized TFF
KF Comm 2 Software, backward compatible with legacy KrosFlo® KR2i and KrosFlo® KMPi Systems, is conveniently installed on any computer using the Windows Operating System. The software is compatible with Chrome, Mozilla, Firefox and Microsoft Explorer browsers and is always current with automatic software and firmware updates.
Proprietary software optimized for KrosFlo® TFF Systems

Validated for GMP Processes with optional 21 CFR Part 11 option

Intuitive workflow with 13 modes of operation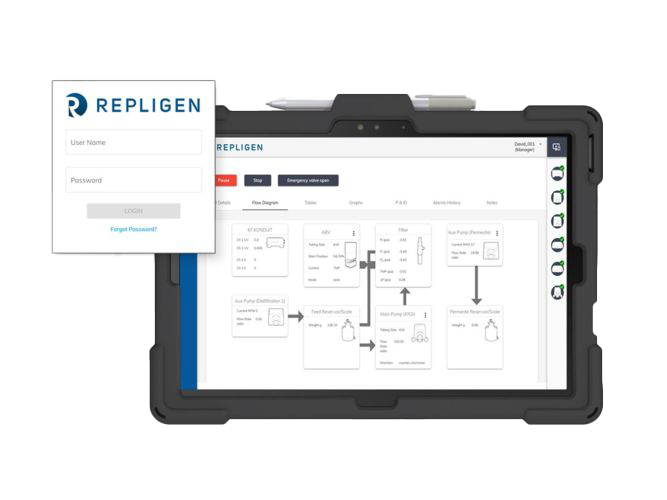 AUTOMATED
Automatic Back Pressure Control Valve
A Repligen-exclusive technology, the Automatic Back Pressure Control Valve adds transmembrane pressure (TMP) control to every TFF process, reducing operator hands-on-time and improving process reproducibility.
Automatically adjust tubing pinch distance according to user-defined set-points
Maintain uniform TMP throughout process run, decreasing membrane fouling
Control permeate pressure and flow during microfiltration applications
Use with compatible tubing sizes 13, 14, 16, 25, HP15, 17, HP24, 18, HP35, 36, and HP36
Activate automatically using inlet, retentate, permeate or transmembrane pressures
AUTOMATED
Monitor and evaluate conductivity, UV and temperature
Konduit is an add-on module ready to use with the KrosFlo® KR2i and KMPi TFF Systems, with the ability to scale from 2mL to 500L process volumes.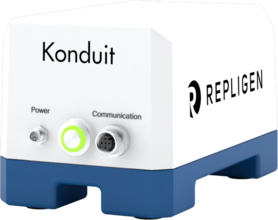 | | |
| --- | --- |
| Conductivity Range | 0.1 to 100 mS/cm |
| Temperature Range | 0-70° |
| Pressure Range | up to 75 psi (5 bar) |
| Dimensions | (L x W x H): 7¾" x 4¾" x 4½" |
| Weight | 1.6 kg |
READY TO SCALE FAST
Ideal for Gene Therapy from Lab to Manufacturing
Run TFF development experiments and compliant small-scale manufacturing runs on a single platform. Start with the KrosFlo® KR2i System with volumes as low as 10 mL. Scale up to 500 L with the KrosFlo® KMPi System while maintaining pump design, system architecture and software.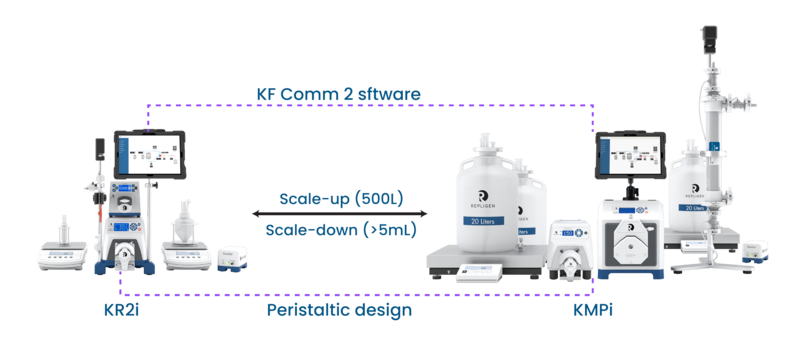 Scale-up and scale-down with a single platform
Configurable across applications (C, D and CFC/D/C)
Modern 21 CFR Part 11 compliance software built on secure Microsoft® SQL Server

READY TO SCALE FAST
Scalable From Lab-scale to Process-scale
The KrosFlo® family of TFF Systems for concentration and diafiltration supports scale up from process development to commercial manufacturing.
KrosFlo® KMPi TFF System
The fully integrated KrosFlo® KMPi TFF System consists of hardware, software and flow path components. Key hardware components include: a digital peristaltic pump, auxiliary pumps and an automatic back pressure valve.
The KF Comm 2 software features a multi-language interface for complete monitoring and control and an optional 21 CFR Part 11 environment. Add tubing and sanitize/sterilize your own flow path around a Spectrum® hollow fiber filter or build a closed and gamma-irradiated ProConnex® Flow Path from over 250 components.
Click on the links below to explore different features.
Optimized for use with Repligen Hollow Fiber Filter Modules
Primary
Application
Volume
Inlet/ Outlet
Side
Port
Scale
Length
Effective Length (cm)
Total
Length (cm)
Surface
area
Batch TFF of small volumes
3 L -15 L
0.75" TC
0.75" TC
1 x FL
2 x FL
3 x FL
20
41.5
65
25
47
70
490 – 1000 cm2
1000 - 2200 cm2
1600 - 3400 cm2
Pilot-scale TFF
5 L - 50 L
1.5" TC
0.75" TC
1 x FL
2 x FL
3 x FL
20
41.5
65
25
46
70
0.16 - 0.31 m2
0.32 - 0.65 m2
0.51 - 1.0 m2
Production-scale TFF
10 – 100L
3" TC
1.5" TC
1 x FL
2 x FL
3 x FL
20
41.5
65
23
46
69
0.78 - 1.6 m2
1.65 - 3.25 m2
2.55 - 5.10 m2
Components and Accessories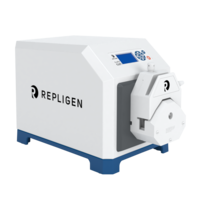 IP 33 Enclosure
600 RPM pump with reversible drive
90-260 Vrms @ 50/60 Hz
Standard Easy Load 3 Pump Head for precision tubing L/S number 13, 14, 16, 25, 17, and 18 provided.
(Optional) Easy Load 3 pump head for high performance tubing L/S numbers 15, 24, 35, 36
ETL listed and CE/UL/cUL marked
Pump Drive Dimensions: 10.5 in x 8 in x 8 in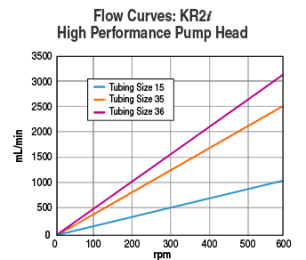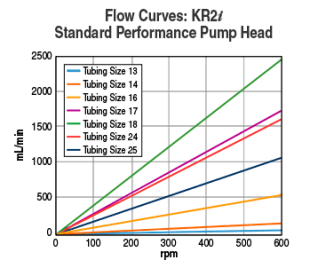 Konduit adds:
End point conductivity control for UF /DF
End point UV control for diafiltering free drug from drug delivery particles
End point UV control for concentration of certain molecules
UV alarm for membrane breakthrough
A260 and A280 light sources available
*UV components sold separately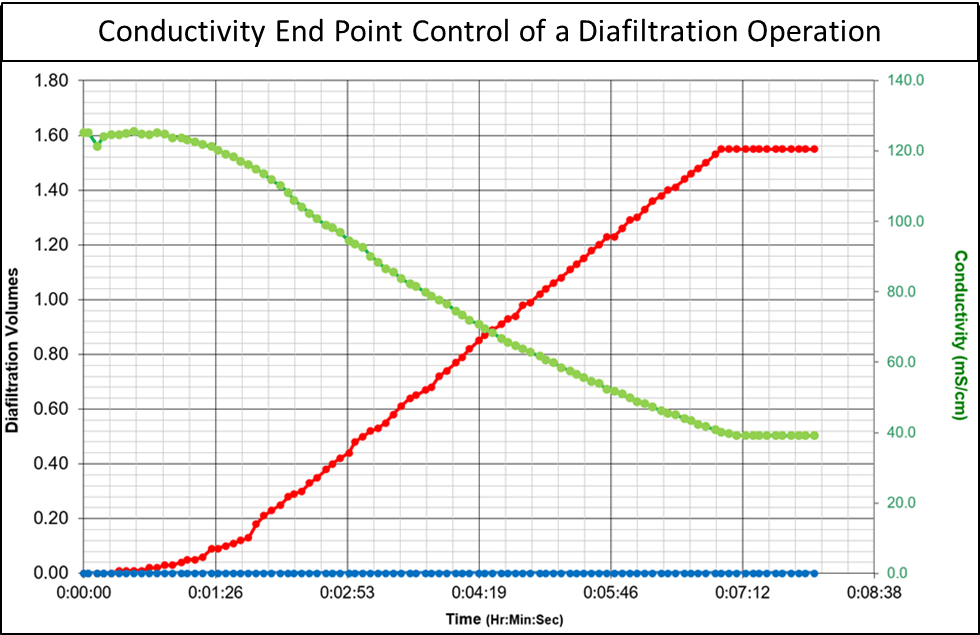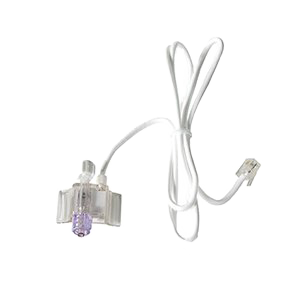 Transducers
Measures and displays 4 pressures: Feed Pressure, Retentate Pressure, Permeate Pressure, Transmembrane Pressure (TMP)
User-defined pressure alarms and stop set-points
Available with different connector types (Luer and TC) and selected materials of construction (PS, PC)
Manufacturing Centers of Excellence
Repligen develops and manufactures products for the biopharmaceutical industry under an ISO 9001 quality management system. We focus on the timely delivery of high quality, consistent and robust products, to ensure business continuity for our customers.
Repligen manufacturing sites are located in Massachusetts, California, and New Jersey in the United States and in Sweden, France, The Netherlands, Germany and Estonia.

Expert Project Management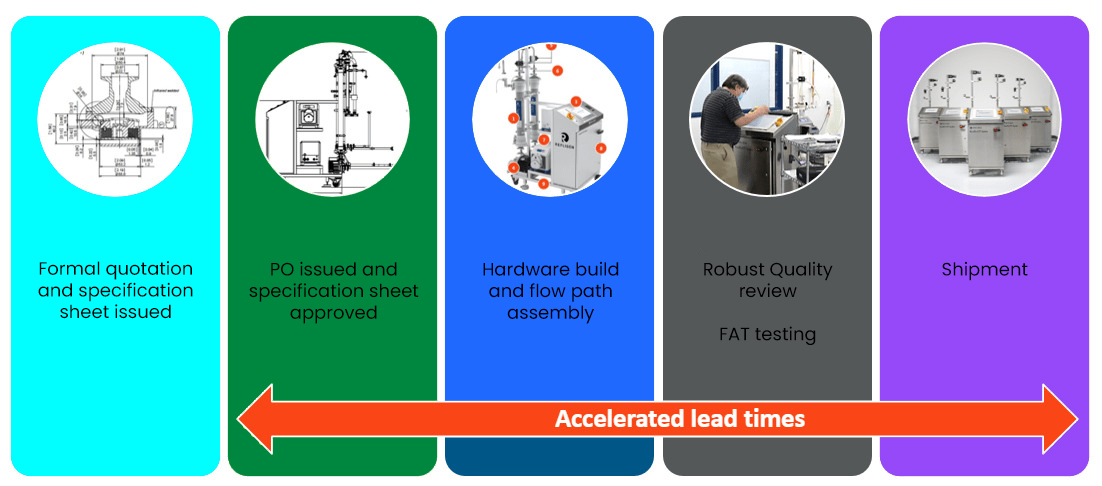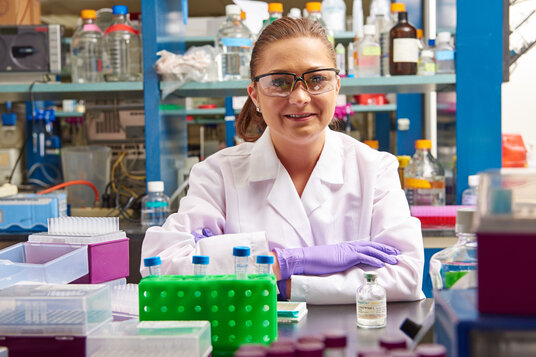 Customer First.
Support is part of the Repligen DNA. Our goal is to provide exceptional customer experience, and to support the efficient and successful adoption and implementation of all Repligen products and services.
Field Application Support

Customer Service

Field Service Engineers
| Description | Specification |
| --- | --- |
| Process volume | Up to 500L |
| Filter surface area | Up to 5.1 m2 |
| Main drive/Feed pump | Up to 11LPM (650 RPM) |
| Pressure transducers | Up to 3 Leur-style, polysulfone single-use (-0.48 to 5.2bar) |
| Scales | 60Kg (included); Optional: 60Kg, 200Kg, 500Kg and 1000Kg |
| Auxiliary pumps | KrosFlo® Research I, 600 RPM |
| Tubing | PharmaPure, TPE, size #26, #73 and #82 |
| TMP control | Automatic backpressure control valve (Non-invasive/No-product contact) |
| Reservoirs | 10L polypropylene with 4-port cap and drain |
| Tablet as HMI | Microsfot Surface Pro |
| Software | KFComm 2 with optional 21CFR part 11 package |
| Compliance | UL and CE certified |