Operating Room Disposables
Protecting patients and meeting emerging healthcare industry needs, Repligen partners with manufacturers as a contract manufacturing organization (CMO) to develop, produce and launch operating room disposables, as well as manufactures and sells medical and surgical disposables directly.
Full service CMO product development from concept to production
Advancements in minimally invasive surgical procedures and computer-assisted robotic surgery bring opportunities for Repligen to partner with Original Equipment Manufacturers (OEM) of medical and surgical devices manufacturers as a contract manufacturing organization (CMO).
As a CMO for operating room disposables, Repligen gathers input on new or next generation product design and utility, while also gathering feedback on perceived value and likelihood of use. Once engaged to produce a product, we develop a complete production plan, gain budget approval and provide regulatory path support to help ensure a successful product launch, support your brand and future revenue stream.
Since 1980, we have helped customers prototype faster and move to market quickly, collaborating closely from concept and design through finished product production, packaging and fulfillment. Leveraging our broad base of experience helps improve output and reduce costs.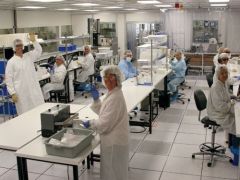 FAST
Experienced design, engineering, production and regulatory team enables fast prototyping and product launch
QUALITY MANUFACTURING
ISO 13485:2016 certified facility
Medical Device Directive 93/42/EEC compliant
FDA Approved
OEM operating room disposables
As an original equipment manufacturer (OEM) of small medical and surgical consumables, Repligen focuses on safety, quality manufacturing and short lead times.
Working in partnership with some of the world's leading medical supply companies and medical device manufacturers, Repligen has developed and manufactured a full line of OEM products for a wide range of clinical applications. These applications include arthroscopy, cardiovascular, endoscopy, ENT, general surgery, gynecology, infection prevention, neurosurgery, plastic surgery, ophthalmology, orthopedics, robotic assisted surgery, urology, veterinary medicine and wound care.
SINGLE-USE, SAFE, STERILE
All products are Latex-free and can be delivered EtO sterilized
SHORT LEAD TIMES
Provide quick, quality prototype parts
Wide selection of materials
Rapid prototyping available
QUALITY MANUFACTURING
FDA licensed medical device facility
EN ISO 13485:2016 Certified Quality Management System
CE Marked Product Lines
Full protection face shields from Repligen are optically clear, anti-glare, polyester film shields for secure splash prevention safety.
Latex-free with tested non-skin sensitive materials used
Comfortable and adjustable with a thick foam headband
Fits easily to accommodate those wearing glasses or safety goggles
Robotic assisted surgery drapes

Developed in partnership with Intuitive Surgical Inc., the drape was designed to cover the 4th da Vinci® Xi™ robotic instrument arm when not in use, in order to maintain the sterile surgical field. The drape is made of a clear polyethylene with anti-stat properties that make clinician application easy and turnaround between procedures fast.

Cost-effective, sterile, single-use
Fast and easy application
Clear, low-density polyethylene
Adhesive strips for secure fit
Operating room drapes and covers

Manufactured with anti-stat materials that make clinician application easy and changes between procedures fast, OR equipment drapes provide sterile integrity while reducing the risk of equipment damage from sterilants. Equipment drapes and covers are supplied sterile or bulk non-sterile for kits. Custom equipment drapes and covers are available upon request.

Repligen manufactures a wide range of equipment drapes and covers, including OR camera and video camera covers, X-ray cassettes covers, C-Arm imaging drapes, ultrasound probe drapes, Neoprobe and bluetooth wireless device covers, catheter covers, banded bags, OR cart covers and foot pedal covers.
Gamma probe drape


Intra-operative probe drapes

Repligen manufactures a full line of intraoperative probe drapes. All probe drapes are manufactured of 100% latex-free, soft, anti-stat materials that are clear and will not obstruct clinician's view. Universal Gamma Probe drapes have medical grade tape strips to hold the drape in place. Cordless drapes are available to protect wireless devices.

Custom intraoperative probe drapes available upon request.

Ultrasound cordless probe drape
Sterile stockinettes

Available in 30 lengths or widths, supplied pre-rolled for easy application



Impervious stockinettes

A sterile moisture-proof barrier that reduces bacterial migration. These Hy N Dry® stockinettes are available in 100% cotton


Non-sterile bulk stockinettes

Multiple uses in OR, emergency rooms, under casts, and over orthopedic appliances, packaged in easy-to-use dispenser boxes.


Heel and elbow cushions

Designed to distribute pressure evenly to reduce the risk of pressure sores, can be used in the OR, rehab, sports, nursing home or home care settings

Esmarch compression bandages

Provides constant and controlled compression during surgical procedures, 100% latex free, 6 sizes, supplied sterile with central supply ready wrap, sterile or non-sterile bulk packaged

Specimen containers

Secure storage of bone or tissue harvested during the surgical procedure with no break in the sterile integrity of the container system.

Resources
Data Sheets
Operating room disposables product list
Quality Documents
ISO 13485:2016 Certificate
EN ISO 13485:2016 Certificate